DPReview adds Fujifilm X-H2 to Studio Comparison, Giving Insight on Fujifilm X-T5 Performance… but There is a Problem!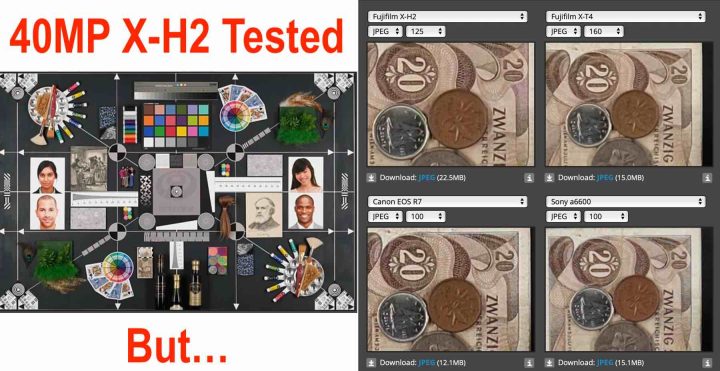 The Fujifilm shared the same heart and brain of Fuji's top of the line Fujifilm X-H2: a 40 megapixel X-Trans sensor and the new X Processor 5.
So, image quality between the two cameras will be pretty much identical.
And now that DPReview has finally added the Fujifilm X-H2 to their studio comparison, we can safely assume that what we see will be identical in terms of performance to the Fujifilm X-T5.
But attention, the test itself does not really have full validity, as the lens used is the original Fujinon XF 56mm F1.2 R, a lens that is not able to take full advantage of the 40 megapixel sensor. They say they will re-shoot the test once they have the new Fujinon XF56mmF1.2 R WR available.
Personally I'd have prefered them to just wait to have the new lens available, as right now the test is kind of flawed to start with. But hey, let's just hope they will find quickly a new XF56mmF1.2 R WR and re-shoot the whole thing (maybe one of you guys living in Seattle can borrow them a copy? ;) ).
But there is also something to be learned from their test.
In fact, it shows that even though the old XF56mmF1.2 R is not listed among the 40 megapixel capable lenses, it enjoys anyway a clear sharpness boost on the 40MP sensors.
So if you own lenses not on the list and buy a 40MP sensor X body, you will notice sharper images anyway… maybe just 35 or 37mp sharp, not the full 40MP, but still an improvement that you'll enjoy in your images.
With this disclaimer out of the way, head over to the DPR comparison tool page to pixel peep as much as your heart desires. And if you do, take screenshots and share your findings in the comments.
We remind you that the Fujifilm X-H2 has the best measured dynamic range of any X camera (and that will apply also to the Fujifilm X-T5).