After Summit Wishlist: Fujinon XF70mmF2 and XF23mmF2 MKII Mock-ups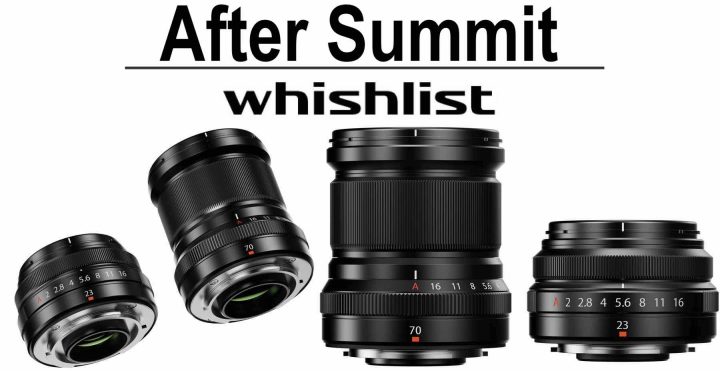 After Summit Wishlist
This is the thing with FujiRumors: when new gear is announced, we admire it, we enjoy it, but we also start right away to look into the future at all the gear that will come.
But before we talk about that, I thought a nice way to kick off the next chapter in the book of rumors was to share a wishlist of a FR-reader.
In this case, it is Pablo, who contacted me shortly before the imminent X summit, but given the mega-buzz we had in the days ahead of launch, I could not publish it.
So when Pablo writes about the X summit "coming soon", this means he refers to the one we just had.
But it makes no difference, as his wish is as valid today as it was before the X summit… and you can read it down below.
guest post by Pablo
With the Fujifilm X Summit coming soon I've decided to make a few renders of some of the lenses I'd like to see announced.
Here is my wishlist:
Fujinon XF 70mm f2 WR
Trying to find gaps in Fujifilm's X lineup I think there's a need for a small telephoto prime, in similar style to the so called "Fujicrons".
I went with 70mm because its closest siblings are quite different in form and function (the old and slow 60mm macro and the big 80mm macro). Also I think 70mm would be a nice prime to have since it equals to a 105mm in full frame, a popular focal length for portraits not so long ago, like the Nikkor 105mm f2.5 (McCurry's famous portrait of the Afghan girl coming to mind).
As for the design, I've looked up at similar focal lenghts, starting with the Fujinon 50mm f2 as base. I've also looked up outside Fuji's lineup finding Sigma's 65mm f2 and Samyang's 75mm f1.8 for Sony E-mount. This is a full frame mount but since it shares a pretty similar flange distance and mount diameter with Fujifilm's X-mount I think the comparison is close enough.
Basically I kept the same length of 69mm that these two lenses share and make it slightly more narrow (since it wouldn't need to cover a full frame sensor), considering also the size of the front element of the Sigma and reducing it a bit. Taking these considerations I believe that it would be possible to have an aperture of f2 at this size.
Fujinon XF 23mm f2 WR version II
I've always wished that the 23mm f2 had been a bit smaller, so here's my design for a version II.
I think is totally doable since there are at least a couple of similar examples out there, mainly Canon's EF-M 22mm f2 (which is ridiculously small) and Leica's TL 23mm f2. In fact, I decided to follow the optical design and size of the Leica 23mm to design this new one.
Let me know what you think and what other lenses would you like to see in the future. I'll be posting new designs on my instagram account @cameraconcept.