Top 3 Selling Cameras, Lenses, Software and Accessories for July on FujiRumors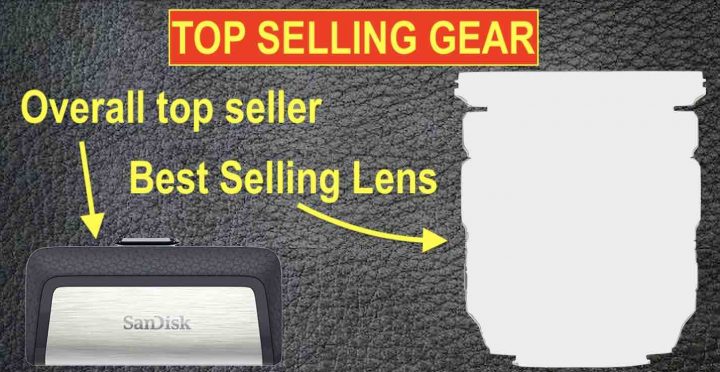 Back in June we had a huge surprise: the Fujifilm GFX100 was selling better than the Fujifilm X-T3.
In fact my sources say pre-orders triple Fujifilm's forecast and Fujifilm managers officially said here pre-orders are "more than twice" what they expected
So which cameras and lenses take the top spot in terms of sales in July? Check it out below.
Of course, the rankings below are representative only for the FujiRumors community and not for overall sales.
TOP 3 SELLING…
Top Accessories
I bought a SanDisk 128GB Ultra Dual Drive USB Type-C myself during Amazon Prime, and so far I am extremely happy with it. Now I have 1 device that I can use for my MacBook Pro (USB-C) and the ancient computers at my school (USB-3). Both connectors slide completely into the stick, making the whole USB stick very compact at no risk to damage the connectors.
The best thing of all, even after Amazon Prime, there is still a huge discount on the SanDisk Ultra Dual Drive.
The best-selling SD-Card was the Fujifilm recommended Lexar 2000x UHS-II.
Last but not least, the Textured Rubber Non Slip Grip Tape, a useful (and cheap) accessory to add more grip to your smartphone, laptop and camera (especially the GFX100, as you can see here).
Top X Series Cameras
The most surprising fact for me here, is that we find the Fujifilm X-E3 on the third position instead of the Fujifilm X-H1, which in my opinion currently represents the best value for money deal in the entire Fujifilm universe.
Some Fujifilm X-E3 combos are marked as discontinued and we already reported that the X-E3 outsells all its predecessors. This gives good hopes for the X-E line to be kept alive (it was not always like this).
The current $100 discount on X-E3 might help to boost sales even more.
Top XF Lenses
I predict this: the Fujinon XF16-80 will become one of Fujifilm's best-selling lenses.
I don't know why Fujifilm does not offer it as a kit lens (hence with a discount if bundled with a camera), but if at some point Fujifilm will decide to offer it as a kit lens, then I think this will boost sales for that lens even more.
For the rest, it seems people's hunger for 50mm equivalent focal length (including mine) is insatiable.
Top X Mount Third Party Lenses
The Samyang 12mm f/2 enjoyed good sales during Amazon Prime.
The Viltrox 85mm f/1.8 AF is arguably the most interesting third-party X mount lens on the market right now. And you know what? There are 3 more Viltrox AF lenses for Fujifilm X mount coming. Check out all details here.
The Mitakon 35mm f/0.95 has been kicked out of the ranking by a couple of 7Artisans lenses, with the new 60mm f/2.8 macro on top.
Top GFX Gear
Fujifilm GFX 5oS sales are struggling, despite the lower price tag. People seem to prefer either the even cheaper Fujifilm GFX 50R (which is still $500 off) or the brand new Fujifilm GFX 100.
Top G Mount Lenses
The compact Fujinon GF 50mm f/3.5 seems to be a winner for Fujifilm. It is marked as top seller at BHphoto.
The brand new Laowa 17mm f/4 has kicked Fuji's own wide option, the Fujinon GF23mm f/4, out of the ranking.
Top Software
Capture One Pro 12 (save 50%)
A great launch deal and the fake sky replacement feature make Luminar 4 the by far best-selling software in July, dethroning Capture One Pro 12, which dominated basically the entire year 2019.