Fujifilm X-E3 with XF 23mm f/2 Combo Marked as Discontinued/Back-Ordered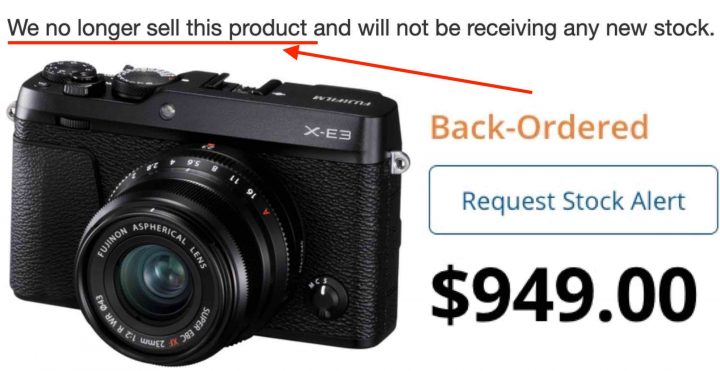 When Fujifilm launched the Fujifilm X-E3, they made something terribly smart, that I strongly believe contributed to the success of the Fujifilm X-E3: they sold it bundled with the Fujinon XF23mm F2 for the attractive price of $949, basically making you save $250 over the regular price of $1,200.
And for months, this combo kept up selling decently.
But something strange is happening these days.
The Fujifilm X-E3 with XF 23mm F2 combo is starting to get listed as back-ordered or even discontinued all over the world.
BHphoto here and Adorama here listed the black X-E3 with 23/2 as back-ordered, whereas WexUK here is a tiny bit more explicit:
We no longer sell this product and will not be receiving any new stock. Check below for availability of second-hand units.
At the time of this post, you can still find a limited number of black X-E3 with 23/2 at AmazonUS.
So far, it seems only the black X-E3 with 23/2 is back-ordered. The X-E3 black body only as well as the silver X-E3 + 23/2 combo are still available at BHphoto, Adorama, AmazonUS and also WexUK. But I don't know what will happen once also the silver combo one runs out of stock.
Maybe Fujifilm decided that it's time to end the nice combo deal.
I will contact sources, and try to figure out what's going on. Once I get reply, I'll update this article.
Fujifilm X-E3: BHphoto, Adorama, AmazonUS, FocusCamera
Follow FujiRumors on Facebook, Flipboard, RSS-feed, Twitter, Youtube and Instagram
X-E Community