Viltrox 23mm, 33mm and 56mm f/1.4 Autofocus Lenses Coming for Fujifilm X Mount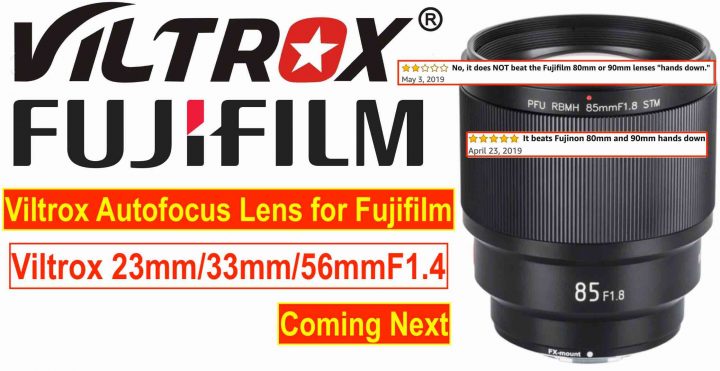 Viltrox AF Lenses
Viltrox recently launched the first reverse-engineered Fujifilm X autofocus lens, the Viltrox 85mm f/1.8 AF.
Now fellow FR-reader Michael (instagram, twitter, youtube) informed me that more lenses will come. In fact, Viltrox said:
"We will have more choices on focal length like 23mm/33mm/56mmf1.4. Maybe some of them can come out in October this year."
It looks like competition is coming for the (currently discounted) Fujinon XF23mm f/1.4, XF 35mm f/1.4 and XF 56mm f/1.2.
As we reported here, the Viltrox 85mm f/1.8 is on and about to become the best-selling third-party lens for Fujifilm X here on FujiRumors. So there is space for third-party glass in Fuji X shooters' bags, and I wish Sigma, Tamron and Tokina would join the X mount, too.
The issue? Fujifilm does not open their protocols (except for Zeiss and the Zeiss Touit X mount trinity), hence companies have to laboriously reverse-engineer the lens firmware to make it work on X mount.
Sigma has flirted with X series customers, saying that they would love to provide lenses for us, if Fujifilm discloses their protocols. However, Fujifilm replied that this won't happen.
fujirumors.com – Sigma CEO: "Fujifilm customers would be our ideal customer, but Fujifilm does not disclose their protocols"
fujirumors.com – Fuji CEO: "Fujifilm does need to share X mount protocols with third-parties, since we offer already lots of glass. But if third-parties reverse-engineer AF lenses for X mount, that's good from a customers' point of view"
Fujifilm makes more money with lenses, than with camera bodies, so it is understandable that they are reluctant to open their mount to third parties.
On the other hand, I believe that with an open X mount, Fujifilm would grow its customer base faster than it is currently happening.
Last but not least, some rumors we shared last year:
read here: SIGMA Will Make FUJIFILM X Mount lenses if X series Camera Sales Increase by 20%
read here: SIGMA Needs Bigger Fujifilm Market Share, TOKINA Designed X Glass Already but Stopped by Royalties, TAMRON is Vague
Follow FujiRumors on Facebook, Flibboard, RSS-feed, Twitter, Youtube and Instagram
Our Owners Groups
Our Facebook Pages