Top Selling Fujifilm X/GFX Deals for May – Last Week to Save up to $1,000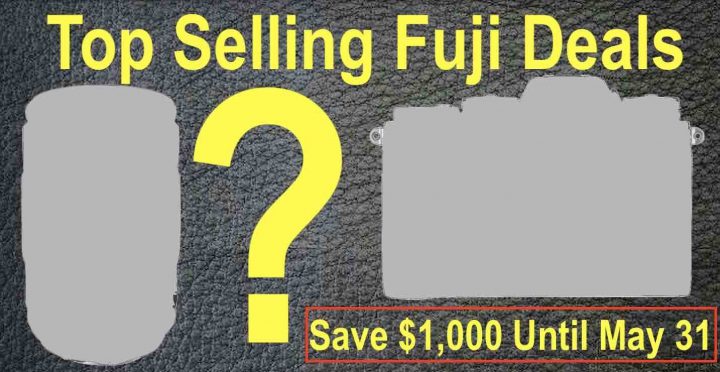 Top Selling Fujifilm Deals for May
These are your the top selling Fujifilm deals on FujiRumors. They are not representative for overall Fujifilm sales.
Top Software
Capture One Pro 12 (save 50%)
Capture One keeps up rocking and selling like hot cakes. No one comes even close to that. Adobe made it into the ranking thanks to a good deal running in May.
Top Lenses
A revival for the good old XF 55-200mm f/3.5-4.8, a lens I own and love, and I am sure people who purchased it will be happy. However, my sample is not used that much anymore, since the XF 18-135mm joined my lens line-up.
Top Third Party Lenses
The Viltrox 85mm f/1.8 autofocus lens for Fujifilm X enjoyed a positive start amongst the FujiRumors community. Second the evergreen Samyang 12mm f/2.Third is the ultra-cheap Meike Neewer 35mm f/1.2.
Top Cameras
Back in March, the new low retail price on Fujifilm X-H1 pushed Fuji's only IBIS X series camera on the top of ranking. Sadly it was just a short moment of glory. It has now fallen back. The Fujifilm X-T3 takes back the throne, followed by the Fujifilm X100F and X-Pro2.
Top GFX Gear
The price is attractive, and the Fujifilm GFX 50R sales continue better than the Fujifilm GFX 50S sales, despite the latter having a new lower retail price.
ALL THE DEALS
You can see all USA Fujifilm Spring deals here. You can see all the EU Fujifilm deals here.
GFX 50R

G Mount Lenses
X Cameras
X mount Prime lenses – save up to $250
X mount Zoom lenses – save up to $200

All Fujifilm Camera Deals
All Fujinon Lens Deals
Third Party & Used Gear Deals
Third Party Lens Deals for Fuji X
Used Fujifilm Gear
Official Fujifilm Recommended Accessories
SD-Cards
Power Banks
Accessories and Apple Deals

Capture One Pro 12 Deal
50% savings on Capture One Pro 12 in the following versions:
Software