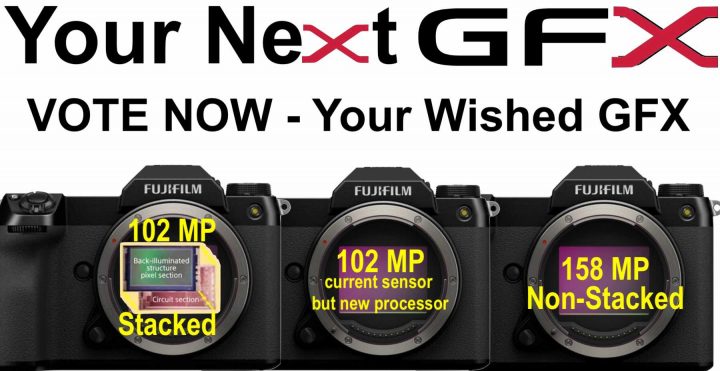 We published an article, where we reason about the future for the GFX series. A future, to say it once again clearly here, I have no idea about due to the lack of rumors, which tends to make me believe that nothing GFX camera related is coming in the foreseeable future.
And yet, this won't stop a rumor site from having fun making speculations, or should it? I just need to make sure that you guys get a clear indication from my side that this is a speculation, not a rumor.
So what's the speculation?
For the reasons we explained in this article, we look at the following cameras:
Fujifilm GFX100S/R with 102 MP stacked BSI sensor
Fujifilm GFX150S/R (or GFX160S) with 158 MP non-stacked BSI sensor
Fujifilm GFX100S/R MKII (same sensor of the current GFX100S but with new processor)
The comment section on the original article was vivid, as well as over at our Fujifilm GFX Facebook group.
So I thought we could try to nail the whole discussion down to one brutally short survey: which GFX are you potentially more interested in?
And yes, I know we don't know if they will ever come. We don't know the features nor the price they'd have if they'd ever come. We don't know about possible design differences. We know nothing.
But we are a rumor site. And and as such it does not hurt to add a bit of lightness and fun to it by speculating on Fujifilm's future.
NOTE: "S" models listed below are SLR styled models and "R" models are rangefinder styled models

Loading ...