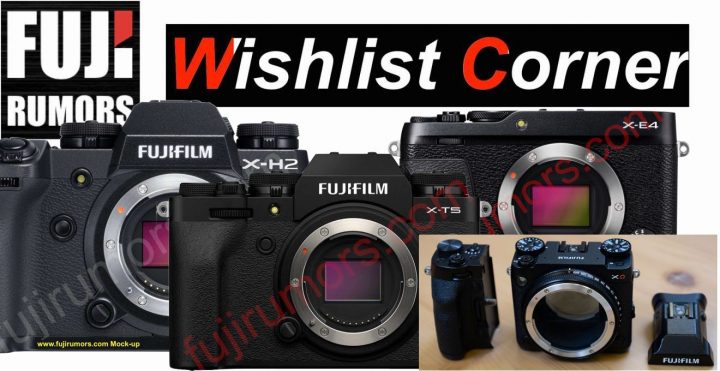 Fujifilm Wishlist Corner
In response to the terrific response to our first FR-readers wishlist corner article and the massive feedback I have received via email by fellow Fuji X/GFX shooters, here is the second episode of this series.
This series is all about your wishes about future Fujifilm cameras, lenses, firmware features and whatever you desire to see in Fuji's future.
As I did receive tons of emails last time, I will focus this FR-readers wishlist corner mainly on cameras… lenses and firmware will follow at a later point.
The Hunger for X-H2
It's interesting to note that most of the wishes gravitate around the Fujifilm X-H2, proving that there is a huge "hunger" for a Fujifilm X-H1 successor.
The (now discontinued) Fujifilm X-H1 was initially a disaster in terms of sales. However, X-H1 sales revived later on thanks to terrific deals that gave it a sales-glory-moment.
The reason for the overall failure of the Fujifilm X-H1 was not its concept, but its timing: a few months later the Fujifilm X-T3 followed with new sensor and processor. I never understood this move by Fujifilm.
And yet, there is absolutely nothing wrong with the Fujifilm X-H1, which, I remind you, snapped the top winning image at the World Press Photo awards.
I am strongly convinced that with the Fujifilm X-H2, Fuji is sitting on a potentially big winner.
Many X shooters would like a Fujifilm X-H2 right now, but as FujiRumors always told you, you have to be patient. Fujifilm is not going to repeat the errors made in the past. When the Fujifilm X-H2 will hit the market, it will be the right moment, have the right features and give the X-H line the position it deserves: right on the top of the high end X series line-up!
What's Next?
Do you have wishes about the Fujifilm future, too? Well, then write me at fujirumor@gmail.com.
Have a wonderful weekend,
Patrick
Follow FujiRumors: Patreon, Facebook, Instagram, RSS-feed, Youtube, Flipboard and Twitter
Wishlist Roundup