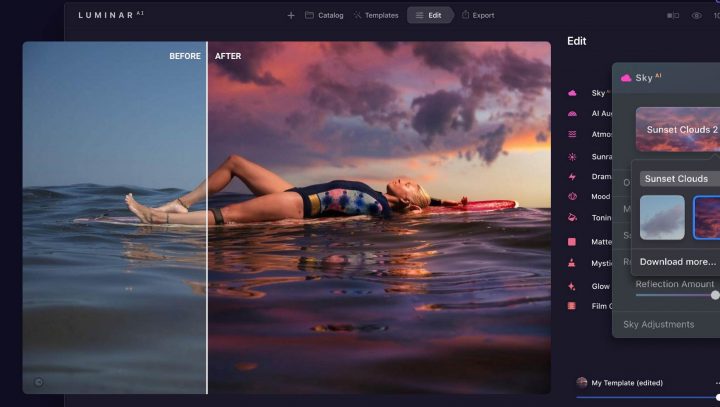 Luminar AI has just received a software update. They also launched it with a limited time discount (save 40%).
If you want to buy Luminar AI, you can get it with $/€10 discount using code "FUJI".
Main features of the new version:
Improved SkyAI with reflections and more
Enjoy a much more robust SkyAI tool which includes long-anticipated realistic water reflections for sky replacements. More discrete controls to fine-tune any imperfections. Visually select your skies from the dropdown menu.
Transformable Texture Overlays
Easily load transparent PNG files into LuminarAI. Use them to add special effects to your photos including watermarks, emoticons, and decorative elements. Move, flip, rotate, and resize elements and place them wherever you want.
Improved Templates experience
All Templates, including Favorite, Purchased, and Legacy, are now at the tip of your fingers in the main Templates tab. Plus, all Templates are now the same size, making them easier to browse and select. Purchased Templates are automatically added to the For this Photo section.
Press Release