Fujifilm X-H1 Wins EISA Award 2018 for Best Mirrorless Camera. But Can We Trust Any Award and Do They Make Sense?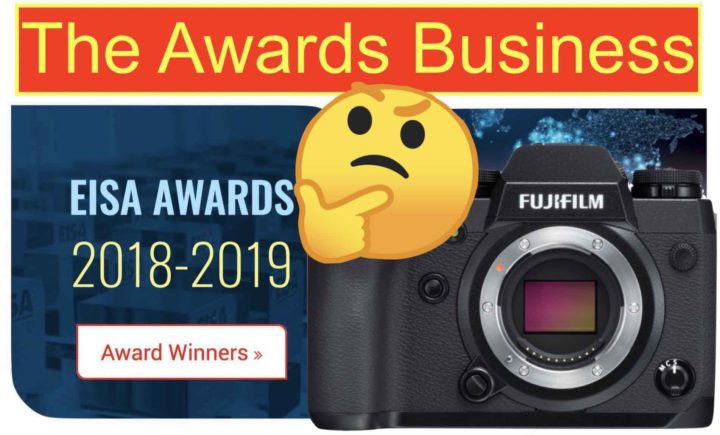 Let's Talk Awards
It's time to say a few things about these awards, and to start a debate:
Do they make sense?
Can we trust any award?
Can we Trust any Award?
Let me explain….
When a few months ago Fujifilm did not win anything at the TIPA awards (except for the Instax SQ10), I tried to understand why this happened.
Did Fujifilm products simply suck, or is the story a bit more complicated?
So here is what I've heard:
If a company wins an award for a certain product, then this company must pay TIPA, EISA or other award companies thousands of dollars if they want to get the license to use the winning-logos for their products.
This could explain why TIPA, EISA & Co always have so many categories.
It's a big business! Which isn't bad per se…
But now I ask you guys…
… if a company decides to stop paying for award licenses, because they prefer to invest their money into real R&D for their cameras and lenses, how likely is it that this specific company will win something the following year?
More precisely…
… if an award company has the feeling (or even knows) that a certain company won't pay for licenses anymore, then will they prefer to give more awards to products of other companies, which they know are more willing to pay for them?
I'm sure not… I mean, I am sure they will just reward the cameras and lenses that deserve it, even if they know (or think) they won't be able to sell the licenses afterwards, because rewarding the gear that deserves it, is more important than making money by selling as many licenses as possible.
Or do you guys think differently than me? ;)
Do these Awards Make Sense?
How important are these awards, in the era of internet?
I mean, everybody is reviewing everything on websites and on youtube. People can easily read and compare hundreds of reviews, as well as select reviewers they trust and value their (free, unpaid and independent) opinion.
I wonder, does Fujifilm really need that nice logo to display at the photography fairs and magazines under their product that says "best camera in category xy"?
Also here… I would like to hear your opinion.
may you have a rewarding day ;)

Facebook, RSS-feed, Instagram, Youtube and Twitter
Fujifilm X-H1 (save $250): BHphoto, AmazonUS, Adorama, Focuscamera
And The Winners Are…
CAMERAS
LENSES
AND MORE
Down below you can read the press release by Fujifilm, and for this years' EISA winners check out the eisa.eu here.
2018 EISA Awards for FUJIFILM X-H1
August 15, 2018
FUJIFILM Corporation (President: Kenji Sukeno) is delighted to announce the "FUJIFILM X-H1" (X-H1) digital camera has been crowned Best Product 2018-2019 in the Mirrorless Camera category at the recent EISA (the European Imaging and Sound Association) awards*.
FUJIFILM X Series cameras and lenses, thoroughly dedicated to high image quality, premium design quality and easy operation, have consistently triumphed at the EISA awards for the last 7 years with the "FUJIFILM X100" winning an award in 2011, "FUJIFILM X-Pro1" in 2012, "FUJIFILM X100S" in 2013, double honors in 2014 for the "FUJIFILM X-T1" and "FUJINON XF56mmF1.2 R" lens, double honors in 2015 for the "FUJIFILM X-T10" and "FUJINON XF16-55mmF2.8 R LM WR" lens, double honors in 2016 for the "FUJIFILM X-Pro2" and "FUJINON XF100-400mmF4.5-5.6 R LM OIS WR" lens, and "FUJIFILM X-T20" in 2017.
EISA MIRRORLESS CAMERA BEST PRODUCT 2018-2019 – The "FUJIFILM X-H1" Digital Camera
Commenting on the X-H1, the judges said, "The X-H1 is the new professional flagship in the X Series, which is the first camera in our range to incorporate in-body image stabilization. The ergonomics have been greatly improved over previous models with bigger buttons, a larger grip and a top LCD display. The fast hybrid autofocus is complemented by silent shooting up to 14 frames per second, while the new high-resolution viewfinder is one of the best on the market. Movie recording is enhanced with Cinema-4K resolution, F-Log gamma and a new "Eterna" film simulation. The X-H1 incorporates the award winning 24.3-megapixel X-Trans™ CMOS III sensor giving high resolution with low noise."
Fujifilm will continue to work on the development of excellent products and services that address user needs, thereby contributing to the further development of photographic culture.
* EISA (the European Imaging and Sound Association) is the association of 53 special interest magazines from 25 European countries. In June each year, the editors-in-chief from all EISA member magazines meet to decide which of the products analyzed in their publications during the past year deserve a coveted EISA Award. The six categories under consideration are: HI-FI, Home Theater Audio, Home Theater Display & Video, In-car Electronics, Mobile Devices and Photography.
via fujifilm