Fujifilm Manager Talks Full Frame Market Shift (and Why Fuji Sticks with APS-C), WR Versions of Older Lenses, Market Situation & More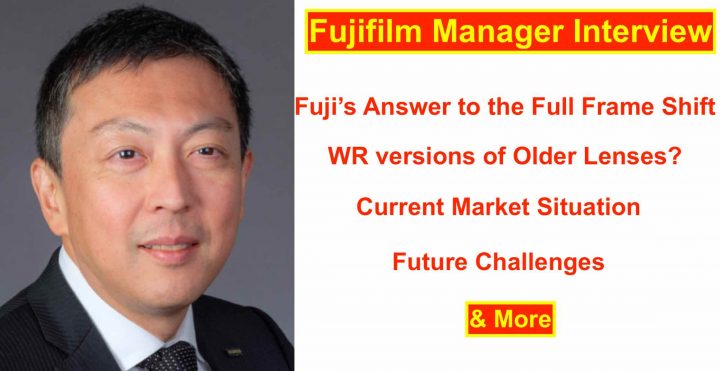 As we reported here, Toshihisa Iida has just been promoted to new President and Managing Director at Fujifilm Europe.
He is also the guy who said in the past that Fujifilm will NEVER go Full Frame.
Now he gave an interview to the amateurphotographer. Here are some excerpts:
COVID-19 affects on Fujifilm
Before the pandemic struck, there were more than 8,000 professional photography businesses operating in the UK alone
global demand for digital cameras has dropped by 40% since the start of April 2020 according to CIPA, but thanks to the performance of products like the X-T4 and X100V, Fujifilm is performing significantly better than that
Fujifilm also worked hard to supply medical imaging technologies to those on the front line, as well as working to realize the manufacture of COVID-19 vaccines and therapies at scale with pharmaceutical partners
Biggest Industry Future Challenges for Fuji: the drift towards full frame or the rise of smartphones?
biggest challenge is to ensure to keep innovating in R&D
Finding a real consumer demand' is a key
provide a better experience of taking photos and videos
Customers don't buy a sensor, but an experience
Fujifilm is not a company to simply follow the same path as others
Consumers demand more and are no longer wanting to invest in a product; they want a service and an experience.
The Market Differences over the Globe
X-T4, X-T3 and X-T30 are all popular around the world, and the X100V has been the bestselling high-end compact globally.
GFX is almost evenly split except in the Chinese market [admin note: I have been told the GFX100 sells extraordinary well in China]
piqued popularly of the X-A series in some Asian countries
Globally, instax is one of Fujifilm's biggest consumer success stories
And Full Frame?
in the last two years the market shifted strongly towards full frame
for Fujifilm, APS-C is the best-balanced system
APS-C is the best answer for those downsizing due to the smaller, lighter lenses, as well as the camera body
GFX provides the best image quality without requiring a high level of investment.
Fujifilm X-S10
It was demand coming from customers used to DSLR cameras and from those who prefer to have more usability for video shooting
very rich features such as IBIS, 4K30p video with long recording time – but with a small weight of just 465g
X-S10 offers a very smooth transition for DSLR customers to enjoy the latest mirrorless technologies with the advantage of a smaller, handy size.
Weather Resistant Versions of older lenses?
WR versions of older lenses requires to completely re-design the inside structure, hence in some cases needs R&D from scratch
Should Fujifilm work closer with Sigma and Tamron?
I cannot be specific about our working relationships with other companies but we have received and understand our customers' request.
You can read the full interview at amateurphotographer.
Join Our Owners Groups
Join Our Facebook Pages