New Fujifilm Financial Results: X-T4/X100V Sales Increasing Despite Severe Market Challenges, but Imaging Solution Down 33%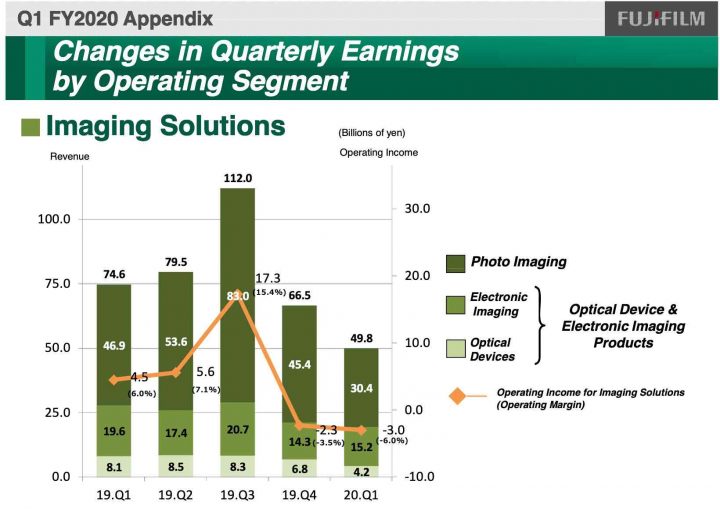 Fujifilm has just published the financial results for the first quarter of this fiscal year (1 April 2020 to 30 June 2020).
Here is what Fujifilm writes in its report about the imaging solution:
Imaging Solutions
In the Imaging Solutions segment, consolidated revenue amounted to ¥49.8 billion (down 33.2% from the same period of the previous fiscal year). The sales of products and services in general decreased due to impacts of stay-at-home orders, business shutdowns including temporary closure of retailers, and self-restraintor cancellation of events worldwide under the spread of COVID-19 pandemic. Consolidated operating loss amounted to ¥3.0 billion. […]
In the electronic imaging field of the optical device and electronic imaging business, temporary closure of retailers and less opportunities to take photos due to the COVID-19 pandemic resulted in a decline in revenue. The sales of FUJIFILM X100V, a high-end model of compact digital camera launched in February 2020 and FUJIFILM X-T4, a mirrorless digital camera highly known for its high-speed AF and high video performance, launched in April 2020, are steadily increasing, despite the digital camera industry is facing severe challenges. We will continue providing value-added products and revitalizing the market, along with sharing the joy of taking photos.
In the optical device field, revenue decreased, reflecting a decline in demand for broadcast and cinema lenses, as well as reduced sales in vehicle-mounted lenses due to stagnation in automotive industry. With an aim to accelerate business growth, we are expanding business fields by developing and launching innovative products that satisfy changing needs of the market, such as ultra-short throw projectors and long throw security cameras.
Follow FujiRumors: Patreon, Facebook, Instagram, RSS-feed, Youtube, Flipboard and Twitter
Join Our Owners Groups
Join Our Facebook Pages