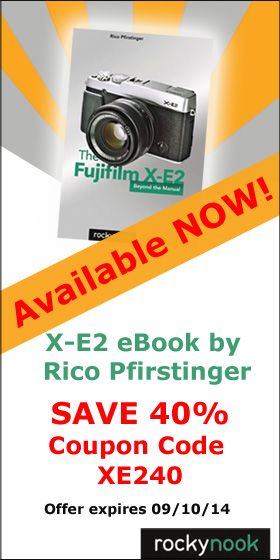 You've patiently waited and finally Fujifilm X-E2 shooters can download the English version of Rico's book "The Fujifilm X-E2, Beyond the Manual" at Rocky Nook here. And for a few days (until the 10th of September) you can grab it with a 40% discount (use Coupon Code "XE240" and using PayPal). Also, Rocky Nook offers PDF, ePub and Kindle all together… DRM-FREE!.
Sample Pages (PDF)
"This book focuses on insights that you won't find in the manual, skipping tedious explanations of basic camera functions and operations. Instead, it cuts to the chase and provides readers with a plethora of tips and practical instructions that will enable them to fully explore the capabilities of the X-E2."
It's time to take the red pill, stay in wonderland, and Rico will show you how deep the X-E2 rabbit hole goes ;-). Download the English book here (for the German version click here).
Rico shares his knowledge not only in books, but also in his Fuji X Secrets workshops, which should be organized also in California later this year. German readers can also check out Rico's article about Fujifilm's ISOless sensor at fujixsecrets here.