Mega Fujifilm X-H1 Rebate Ends Today and a Fujifilm X-H2 Rumor Recap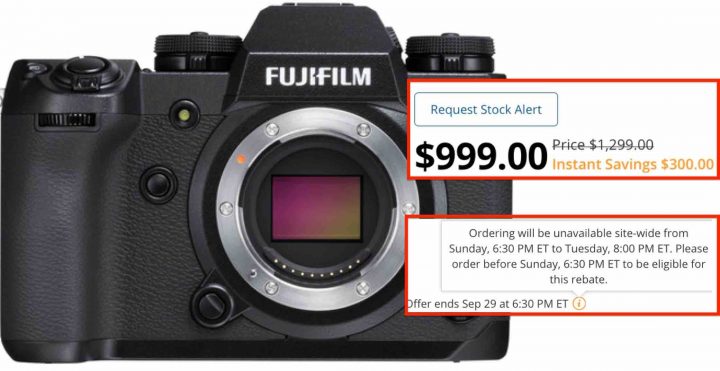 Fujifilm X-H1
As you can see from the screenshot below, the official Fujifilm page writes:
The FUJIFILM GFX System and X Series Camera Body and Camera Kit Product Savings and Promotional Offers are effective from August 4 – September 28, 2019 or while dealer supplies last.
However, it seems that the Fujifilm summer deals last day is actually today, September 29. So you have a few more hours to grab the super discounted Fujifilm X-H1.
Keep in mind: BHphoto will stop taking orders at 6:30 PM ET, so you have to order before, in order to be eligible for the mega X-H1 rebate.
Fujifilm X-H2
Two facts keep up fueling speculations about the imminent arrival of the Fujifilm X-H2:
a mysterious third registered camera
And if I'd not have the privilege to see behind the scenes of the Fujifilm world, I'd be totally with you.
But from what I hear and already shared on FujiRumors, there won't be any Fujifilm X-H2 coming in 2019, and maybe not even in 2020.
So is the X-H line dead?
Well, when asked if the X-T and X-H line will merge in future, a high ranked Japanese Fujifilm manager answered publicly: "X-H and X-T Line will both evolve separately in future".
So, at least at this point in time, Fujifilm believes both lines can co-exist… and I guess Fujifilm just needs to figure out how, hence the long waiting time for Fujifilm X-H2.
Anker PowerCore+ 26800 PD
The Anker PowerCore+ 26800 PD is now selling for the lowest price ever at AmazonUS (regular price $129 – currently $67). It is officially recommended by Fujifilm for charging batteries while inside the camera.
I own the Anker PowerCore+ 26800 PD myself, and I am very happy with it.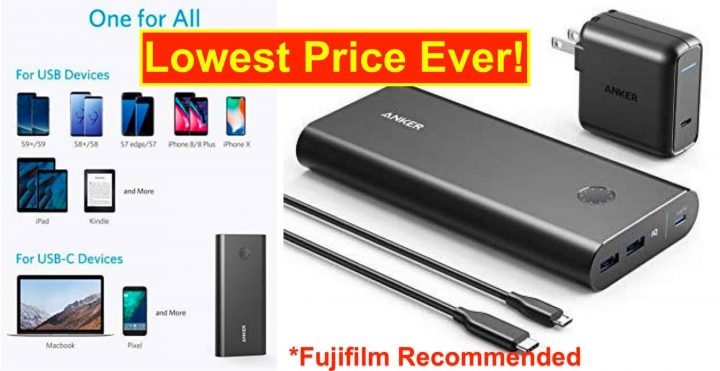 Full List of Fuji Summer Deals
X Series Deals
GFX Deals
Top Tech Kickstarter hit
General Deal Pages
All Fujifilm Deals

Used Fujifilm Gear
Official Fujifilm Recommended Accessories
SD-Cards
Power Banks
Software