EXCLUSIVE: Fujifilm X100V with 2 way Tilt Screen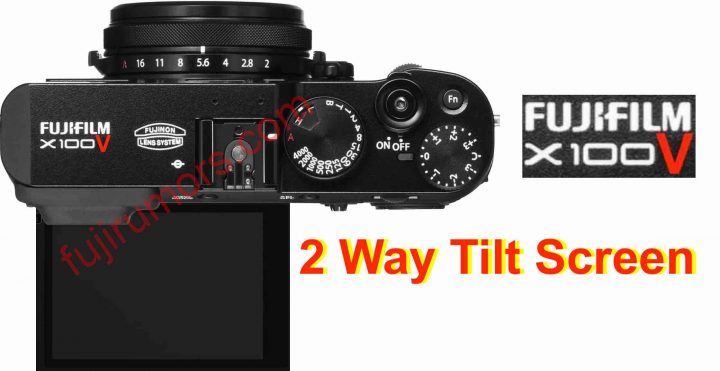 Fujifilm X100V
Hey guys, had a good weekend? I hope so.
I thought we start the week with something fun… a nice rumor, courtesy of a kind source (thanks) :).
Back in November 2, there was an original report on dpreview, that said:
I also got a little bit of gossip from the Fujifilm rep on the x100 refresh: He said that he has seen three mock ups of potential designs, two of which have flip screens (with one modelled on the Xpro3's).
That triggered a wave of disinformation, claiming the X100V would have the X-Pro3 hidden screen.
FujiRumors tried to stop this speculation immediately on November 3 here, by telling you the Fujifilm X100V will not have the Fujifilm X-Pro3 screen.
Today, thanks to our fantastic sources, we would like to disclose the full truth: the Fujifilm X100V will have a 2 way tilt screen!
Now, you know I shoot X-E3, so tilt screens are not a priority for me. But it's also true that shooting from the hip can come in quite handy during street photography, as Zack Arias has shown here (go to minute 0:40).
So there will be some who love the idea of a tilt screen, others will hate it. Let us know in the survey what's your take on this.

Loading ...