XF 56mm f/1.2
USA AmazonUS / BHphoto / Adorama / DigitalRev / eBay / – EUROPE: wexUK / wexDE / PCHstore / DigitalRev / eBay /
– FR-reader Roger just told me that popflash (see their eBay store here) expects a few XF 56mm units on Wednesday.
The lens is already available at fotohanskeuzekamp (Holland) here.
fotohanskeuzekamp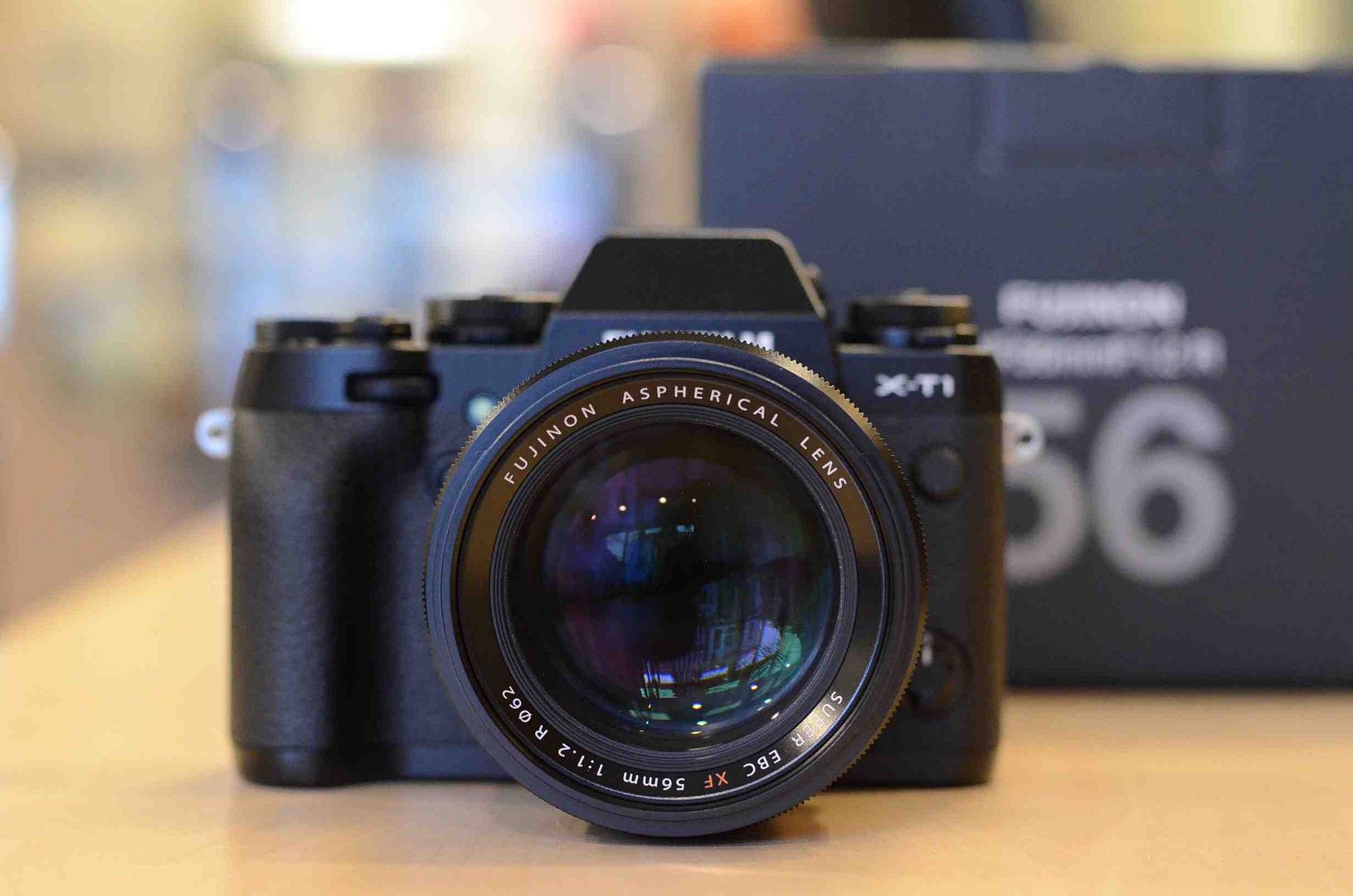 X-T1
X-T1 body only ($1,299): USA: AmazonUS / BHphoto / Adorama / Pictureline / eBay / DigitalRev / EU: wexDE / wexUK / PCHstore / eBay / DigitalRev /
X-T1 with 18-55 ($1,699): USA: AmazonUS / BHphoto / Adorama / Pictureline / eBay / DigitalRev / EU: wexDE / wexUK / PCHstore / eBay / DigitalRev /
– One more review… and once more highly recommended. Cameralabs concludes their review here by saying that:
"The Fujifilm X-T1 is an outstanding camera, boasting superb image quality, a fantastic viewfinder and continuous autofocus which actually works, letting you successfully capture subjects in motion. […] It's one of the best cameras around at this price point whether mirrorless or DSLR and one I can highly recommend. […] The X-T1 certainly delivers one of the most satisfying and enjoyable experiences at its price point, or indeed at price points twice as much. I'm confident it'll delight both high-end enthusiasts and pros, the latter possibly buying it as a backup to a top-end DSLR and who'll almost certainly end up using it more and more as time goes on. The Fujifilm X-T1 is very deserving of our Highly Recommended award. "
– Tom Grill completed a full hands-on review of the X-T1, giving it a pro workout in a couple of lifestyle shoots alongside a Nikon D4. Check it out here at aboutphotography: "The first thing everyone mentions about the X-T1 is its ground-breaking viewfinder, and I have to say it definitely lives up to the hype. […] The most difficult situation for continuous focus tracking is when a subject is moving towards the camera. […] The X-T1 performed this task equal to a pro-level DSLR camera, even at its highest 8fps speed. […] Auto-focus has been improved to best-of-breed and on par with many pro level DSLR's. […] Bottom line is I can stop my search for a compact alternative to a pro-level DSLR camera system. Fuji gift wrapped it for me with the X-T1."
– Josh McLeod: "Hi Patrick. I recently converted from shooting with a DLSR  to Mirrorless… namely Fuji X-E1 and X-T1 (and Olympus E-M1). If there is anything of interest on my website/blog about the Fuji for your readers I am more than happy contribute to the Fuji community. www.joshmcleodphotography.com"
– Bird Watching with the X-T1 at flixelpix here: "It was a great experience watching remotely, we did try and capture some flight images as the birds arrived at the feeder but it was a challenge. The Fujifilm Camera Remote app is brilliant but the idea of shooting action photography via live view all through wifi is a very big ask!"
– Carl: "Bill Fortney, professional photographer and teacher, has been sharing all week about the T1 that he has taken to St Croix.  Not only are there lots of pictures, there is teaching about the T1 and he shares his "settings" and why he uses those settings." Read setting up your X-T1 menus here at billfortney.
– The FUJI X-T1 – Is it the best camera for manual focus ever? at soundimageplus here: "Returning to the manual focusing it's not that surprising that this should be a superb camera for that. As has been well documented the screen is one of the best, if not the best, EVF's out there. Since manual focusing is dependent on how well we can see the point of focus then this obviously gives the camera a real advantage. Add in the souped up super-contrasty peaking facility and it's not hard to see why this is such a great camera for MF. It's quick, it's accurate and with practice it should take not much longer to focus than using AF."
XF lens deals
(great deals also if you pre-order from Europe. Read more here.)
BHphoto: New Benefits for International Customers: PayPal now open to all countries!
XF 14mm: $200 off (price $700) at BHphoto / Adorama / AmazonUS / Pictureline
XF 18mm: $200 off (price $400) at BHphoto / Adorama / AmazonUS / Pictureline
XF 23mm: $150 off (price $750) at BHphoto / Adorama / AmazonUS / Pictureline
XF 27mm: $250 off (price $200) at BHphoto / Adorama / AmazonUS / Pictureline
XF 35mm: $150 off (price $450) at BHphoto / Adorama / AmazonUS / Pictureline
XF 60mm: $250 off (price $400) at BHphoto / Adorama / AmazonUS / Pictureline
XF 55-200: $200 off (price $500) at BHphoto / Adorama / AmazonUS / Pictureline