10 Things You Might Have Missed: Fujifilm X-H2 40MP X-Trans, September X Summit, Overheating Drama Ends, Crazy X-H2S Video Dynamic Range and More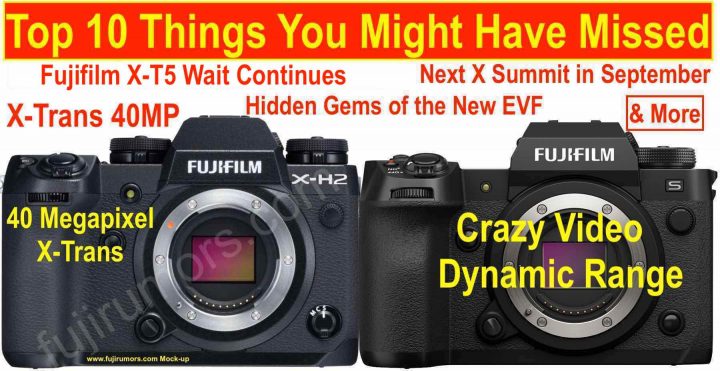 What an event! What a day! And how much stuff to digest!
Now, the main specs of this camera are known. But going through the various video coverage, I'd like to highlight a few things that given the massive amount of information some might have missed.
All you read below can be found in the videos of our live blog coverage.
Fujifilm X-H2 40 MP is X-Trans
If you look at the slides we shared during the X summit, you can clearly see that Fujifilm marked the X-H2 40MP as featuring an "X-Trans" sensor. For the vast majority of Fujifilm shooters this is fantastic news, as we can see here (me included).
X-Trans is here to stay… at least for one more generation.
Fujinon XF 8mmF.3.5
This has not been said clearly, but I believe it is probably rectilinear, otherwise I think Fujifilm would have mentioned on the official new X Mount roadmap that it is fisheye.
Video dynamic range
Video dynamic range is incredible for an APS-C camera. In F-Log 2 Gerald Undone measured 14.7 stops. Gerald Undone was quite blown away by the performance when noise reduction is applied in post. He says:"The noise created by this sensor, first of all it is actually quite pleasing, even if don't clean it up*, but then the software is able to clean it up very effectively so that the test software just gives it a great score. An incredibly result, I am very very pleased with it"Gerald really rants around for minutes on this, as he is literally and genuinely surprised by how good the performance is
*thank you for being with us, X-Trans :)
That External Cooling Accessory
All this panic for this accessory, and then you see the reviewers trying hard to bring it to overheat and they miserably fail. And by the way, the fan is weather sealed and you have lots of control over it (fan speed, fan noise, etc) and it pulls power from the camera. But as the Fuji Guys said in their latest X summit post launch party live stream, it is really something you might need in extreme conditions.
Waiting for Fujifilm X-T5 Continues, Next X Summit in September for X-H2
The Fujifilm manager said during the X summit that the 5th generation Fujifilm cameras will begin with the X-H2S followed by the X-H2. These will be the first two cameras with the new platform. He also added more details about the X-H2 will follow during the X summit in September.
So if you were hoping for the Fujifilm X-T5 to come next with the 5th generation goodness, then I guess the manager just told us we better arm ourselves with even more patience.
The next 5th gen camera waiting for us seems to be the Fujifilm X-H2 HR 40MP in September apparently.
Slow Motion
4K/120p has a 1.29x crop and 1080/240p with a 1.38 crop
CFexpress Type B mandatory for…
Higher ProRes bit rates require to be written on the CFexpress card
Top EVF refresh rate
The X-H2S has an EVF refresh rate of 120 fps (previously highest refresh rate 100 fps) and the EVF is designed to always result sharp even if the pupil is not perfectly centered to the camera. That's not something that appears on the specs sheet, but you will notice in when you use it
The X-T4 Stills video Switch is Gone, but…
The dedicated video/stills switch we have on X-T4 and GFX for example, is gone. Not a big deal, as now the C1 to C7 settings can memorize settings for both, video and stills.
Face vs Subject Tracking
A little detail to know: as pointed out by BigheadTaco, if you set your camera to subject tracking, then face/eye tracking will be disabled and vice versa, enabling face/eye tracking disables subject tracking. So better assign function buttons to the new AF tracking features.
Command Dials
You can no longer press the command dials. Gajan says he has been told by Fuji they did it to avoid accidental presses especially in video environment
IBIS BOOST
According to ZY Cheng, Fujifilm plans to increase IBIS performance via firmware from current 7 to future 8 stops