The Fujifilm GFX-H100 4K Filmmaker's Camera with X-Trans Sensor? More Slides and Details on FujiRumors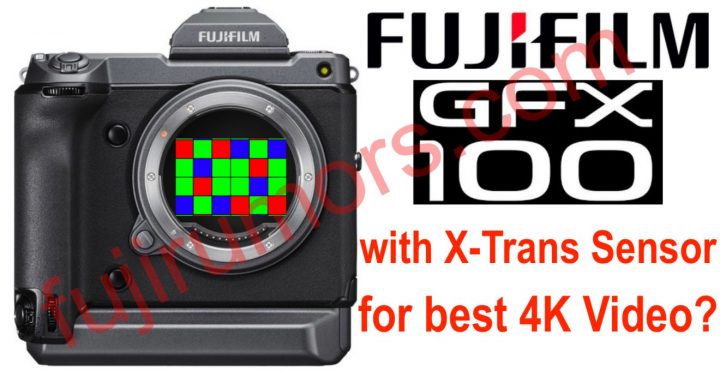 An old slides is circulating again on the web, regarding a video centric Fujifilm GFX-H100 camera with X-Trans sensor.
Of course FujiRumors reported about this already a few months ago here.
Not only, we have also shared additional 3 slides exclusively for you, which go even more in detail on how Fujifilm imagines this camera.
So let me recap that for you down below.
X Trans Fujifilm GFX100 Details
The Fujifilm slides below have been sent to me (thanks), and they show what evidently is a Fujifilm X-Trans IV sensor with 101 megapixel for improved 4K video performance.
It's called X-Trans IV, because it is based on the same sensor architecture of the Fujifilm X-T3 / X-T30, just 4 times bigger.
Is Fujifilm planing a Fujifilm GFX100 with X-Trans coming for best 4K video performance?
Let's go through the slides (that you can see at the bottom of this post):
Fujifilm says that the main solutions for 4K video are:
4K Bayer pattern
4K 3CMOS / 3CCD
downscale from 5K, 6K or even 8K Bayer, which is most used in mirrorless cameras
The latest solution, the downscaling from 5K, 6K or 8K has some negatives:
Long readout time/frame, "jello effect"
Overheating
a large number of false-color even with low-pass filter
difficult to remove colored moire
need interpolated data from near pixels
Fuji's best solution for 4K
Standard RGB UHD quality
ADC level fast readout by RGB-Pixel binning
Large Format, Shallow depth of field
high sensitivity, no false-color
no need to corrected displacement
The slides show a pixel array of 11646 x 8736, which makes exactly 101,7 megapixel! That's the Fujifilm GFX100 senor. But they say it's an X-Trans IV 3×3 RGB unit, whereas the Fujifilm GFX100 has a conventional Bayer layout.
The binning readout would be of 3882 x 2912 x RGB, which would result in 34 megapixel.
Is an X-Trans sensor Fujifilm GFX100 on the way?
I will investigate and let you know here on FujiRumors, hence make sure to follow us on Facebook, Flipboard, Instagram, RSS-feed, Youtube and Twitter.
Fujifilm GFX 100: B&H Photo, AmazonUS, Adorama, Focuscamera
The GFX Community
one slide via eoshd