TESTED: Fujifilm X100V Overheating and Focusin Ring Issues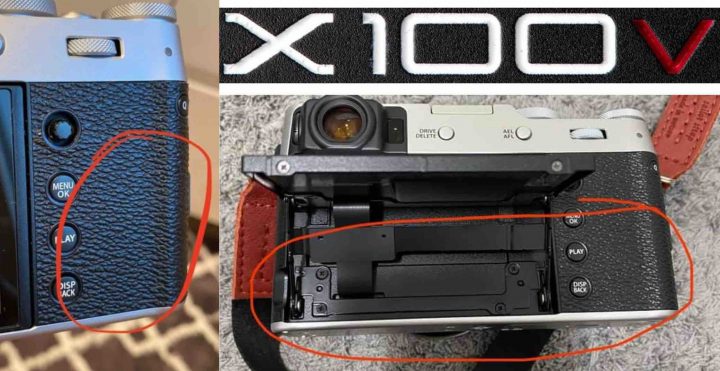 Some Fujifilm X100V users over at our 30,000+ members strong Fujifilm X100V facebook group are experiening overheating issues on their Fujifilm X100V camera. The affected area is the entire lower back of the camera, as you can see from the image above. You can read the post about this issue here.
Other members do not have this issue, so maybe it affects only a limited number of cameras that might require an extra step at the Fujifilm service for a fix.
In the video below, Andrew tested the X100V overheating. Here are his findings:
camera set at 3 seconds interval time shooting
Room temperature
after 600 shots the camera reached 108 Fahrenheit (42 Celsius)
temperature remains steady also after 750 shots (on same battery)
Heated Room Temperature (ambient temperature at 100/105 Fahrenheit = 37/40 Celsius)
camera quickly arrives at 100 Fahrenheit around thumb rest area
after 100 shots he reached 114 Fahrenheit (45 Celsius)
only after 600 shots he got the yellow overheating warning icon (129 F/ 53 C)
after that things remain steady and the camera didn't get much hotter
yellow overheating icon you can still shoot, but you risk more red hot spots
once the overheating icon turns red, the camera is about ti shut down
CONCLUSION for STILLS
In real world photographing there is nothing to be concerned about
4K Video
In video, after 12 minutes he got overheating warning and temperature climbs quickly
if you swap the batteries, you can record also over 1 hour
you will indeed get overheating issues if you shoot longer 4K videos
Also, in the video below Andrew reports about flaws with the focusing ring, which some report gets an unpleasant grinding when you turn it. Andrew has in general experienced this kind of sound also with other Fujinon prime lenses. He said he heard Fujifilm is quick in fixing this. The X100V he has, has not this issue.
→ Top X100 Community: Fujifilm X100 facebook group
FujiRumors is on Patreon, Facebook, Flipboard, RSS-feed, Twitter, Youtube and Instagram