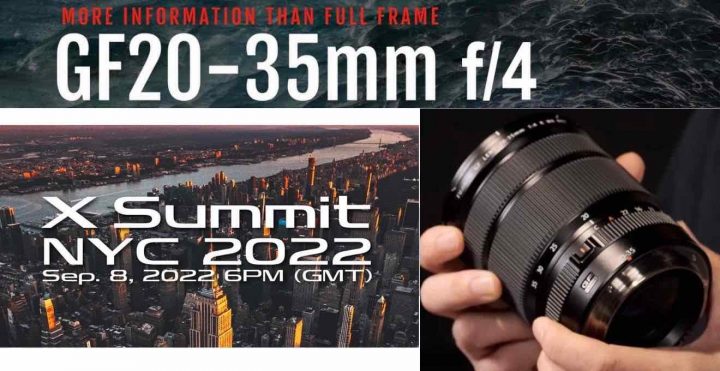 The Fujifilm X Summit on September 8th at 2PM New York time will have one huge protagonist: the Fujifilm X-H2.
But it won't be an X-H2 event only, nor an exclusive X series event.
Nope, also Fujifilm GFX shooters will have something to look forward to.
In fact, according to our trusted sources, Fujifilm will announce the Fujinon GF20-35mmF4 on September 8, too.
As an owner of the incredible Fujinon GF32-64mmF4 myself, having a zoom that starts more or less where my current lens ends and goes all the way down to 20mm (15.8mm FF equiv.) making it the widest GF lens available, is something that is really tempting to add to my G mount lens arsenal.
Because even if I currently can't go beyond 64mm with my GF32-64, thanks to the 100 megapixel on my Fujifilm GFX100S I can crop the heck out of my files and get closer while retaining sharp and crisp images. But I can't capture things that are outside what my lens can see, so a wider option could definitely come in handy for my landscape photography.
You see… my GAS is already triggered. ;)
The Fastest Growing Fujifilm Group
Join Our Owners Groups