Nikon Z9 Sport Photographer Test Fujifilm X-H2S and Fujinon XF18-120mmF4 and XF150-600mmF5.6-8 Tests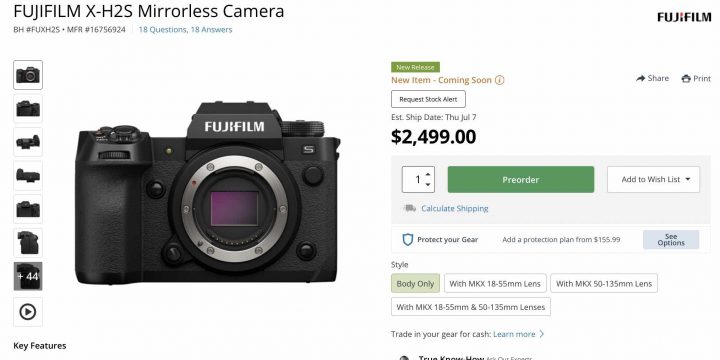 Here is a little roundup to catch up with the latest first look reviewers about Fuji's newest gear trinity.
It includes a Nikon Z9 shooter going hands on with the Fujifilm X-H2S and explaining us why 40fps do matter. It's the first video in the "video section" down below, and it is also summarized for you in case you don't have time to watch it right now.
And of course we got also the XF18-120mmF4 and XF150-600mF5.6-8 covered.
So, I guess you have now something to read and watch… I'll jump in the Mediterranean water while you get through this all ;).
Fujinon XF18-120mmF4
alwinkok – XF18-120mm -A Good Zoom Lens for Photographers?
Overshadowed by the Fujifilm X-H2S…
smashed by the Fujinon XF150-600mmF5.6-8…
obscured by the latest Fujinon X mount roadmap…
the Fujinon XF18-120mmF4 entered the Fuji world with little fanfare.
But here on FujiRumors we treat all lenses with the same dignity, so we will start the roundup with this lens. More precisely, the with the coverage of Taylor Jackson, who says:
there are four ways to zoom
1) a zoom ring designed to feel like a manual zoom ring
2) behind the zoom ring, there is a zoom lever
3 )there is a zoom button to zoom at a constant speed
4) ou can zoom via touch screen controls
exposure stepping still exists [on this pre-production copy]
minimal focus breathing
very versatile
Fujinon XF150-600mmF5.6-8
keithwee – Fujinon XF150-600mm ƒ5-6.8 R LM OIS WR Review – Reach Maximus
Videos Section
Jason Halayko (a Nikon Z9 owner) is an experienced action sports photographer who also runs a small youtube channel with 800+ subscribers.
Well, it looks like Fujifilm is looking for talent rather than for youtube popularity, as he was one of the guys selected by Fujifilm to test the Fujifilm X-H2S.
So what does Jason think about his pre-production Fujifilm X-H2S?
Well, you can find a summary and his 24 minutes video down below.
he had a 1 hour shoot with a Pro BMX rider
it was not enough time to go over all the smaller AF settings in the menu
camera handled it awesome
his Nikon Z9 shoots RAW up to 20fps
X-H2S can go up to 40fps
he had the X-H2 always set on 40fps
40 fps is really a lot. On a long day of shoot he would not set it on 40fps, otherwise he'd end up with 10,000 images a day
after a day of shooting with his Nikon Z9 he comes home with 5,000 images
10,000 would be more than he'd like to take
but if you have just 1 hour, or a few minutes, or a only a few chances to photograph a certain trick, 40fps are good to have. You know you'll get everything and also that peak moment of action
when time constraints are an issue, 40fps is really helpful
with 40fps you have a lot of images to pick from during that "peak moment" (in his case, a BMX rider showing tricks in the air)
camera is really easy to use. Great controls
40fps matter also in case you shoot a sport/athlete you don't know very well, so you don't know the exact timing of the trick. You can shoot a couple of seconds of burst, then show the athlete the images, and let him/her tell you what the best timing for that trick. So the athlete can teach you what's the best timing
40fps is great for beginners, but also for Pros
maybe at 1 moment of their peak performance they have their eyes closed, but the next moment the eyes are open, and with 40fps you get it all during that peak moment and that can be a life saver
in his shoot, he had the camera set of face/eye tracking
he recommends to check out the AF-C custom settings (ignore obstacles, accelerating/decelerating subjects, suddenly appearing objects, erratically moving subject etc)
he had no time to use them, but he thinks he'd have get better performance if he would have used them
face detection on the biker worked well, but when there were other people in the frame it could pick up also on other people
obviously the camera does not connect to his brain and knows which of the faces he wanted to photograph
so he set it on "zone" to give the camera a bit of back-up, and that really helped
thing is: same issues that happen with X-H2s also happen with his Nikon Z9, which is more than twice the price
sometimes it is just better to turn off face detection and go with zone tracking
X-H2S has no blackout in the EVF even at 40fps
X-H2S AUTOFOCUS TESTS
TIP
_ _ _
What the video starting from 4:30 to 4:45 to see new clips of animal/bird tracking in action. The other clips he showed we have already shared in this article (40 minutes video with summary and time stamps)
At 10:05 he compares ISO performance with X-T4 and says the performance is similar, but slightly better on the X-H2S. He'd say half a stop better. X-H2S has even better skin tones and colors.
More braid tracking at 11:09 until 12:13.
IBIS on X-T4 is already one of the best on the market (much better than Sony), but X-H2s is slightly better than X-T4. Less wobbling.
_ _ _