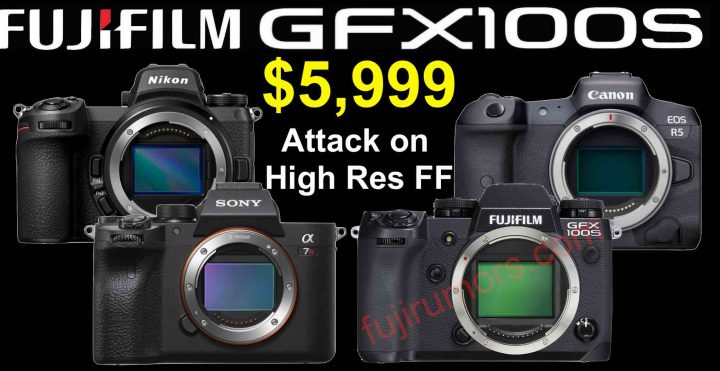 We already leaked the price of the Fujifilm GFX100S, which will be of $5,999.
That's cheaper than the Fujifilm GFX50S at launch, which was sold for $6,500 (now the new list price is of $5,499, so just $500 cheaper than what the Fujifilm GFX100S will be).
And keep it mind: the Fujifilm GFX100S has not only IBIS, but also a highly modern state of the art BSI 100 megapixel sensor with phase detection pixels all over the sensor, whereas the Fujifilm GFX50S uses an older contrast detect AF only and non BSI sensor.
It's a crazy good price if you ask me. And the goal seems to be pretty clear to me: threaten all those high resolution full frame cameras.
Let's take a look:
Sure, the high resolution full frame cameras will still be between 35% and 50% cheaper than the Fujifilm GFX100S.
But consider that the Fujifilm GFX100S has also about twice the megapixel of those full frame cameras as well as a 70% larger sensor.
Considering the whole package, I think that it's a terrific price.
While the 10K price tag as well as the size of the very popular Fujifilm GFX100 were still a deterrent for many to buy into the GFX system, I think that Fujifilm now nailed it by making a smaller Fujifilm GFX100 and also make it 40% cheaper!
Now we are at a point, where those looking for high resolution cameras and until now were considering the various full frame offerings might as well consider to get the Fujifilm GFX100S, which will offer twice the megapixel and a 70% larger sensor.
I don't know you, but my impression is that Fujifilm is about to drop a potential best seller here.
Follow FujiRumors on Patreon, Facebook, Instagram, RSS-feed, Youtube, Flipboard and Twitter