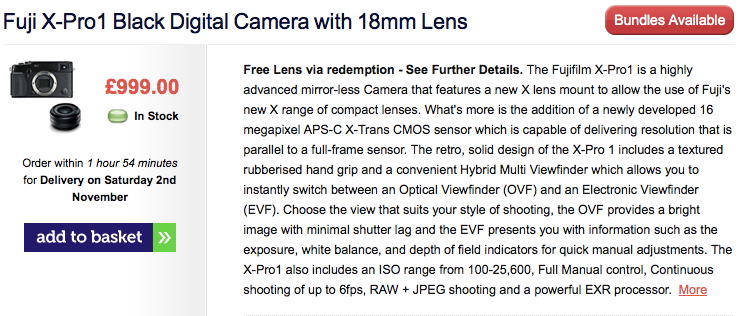 As I told you last month, Fuji stopped the production of the X-PRO1 and now it's time to empty the warehouse! The first awesome X-PRO1 deals are right now available in UK and Ireland! That's the deal:
Purchase a new Fuji X-Pro1 + a Fuji XF 18mm lens between Friday 1st November and Friday 31st January 2014 and claim a lens FREE (choose between the 27mm, 35mm or 60mm). You'll save £480 / € 600
Offer runs until January 31st January 2014 inclusive. You have to purchase the X-PRO1 from approved retailers. Here is the list.
Check out for example the deal at wexUK or jessops.
"Simply keep hold of your receipt, download and complete the claim form, send it back to us along with your receipt and we'll send you an 27mm, 35mm or 60mm lens completely free!!!"