BREAKING: Fujifilm X-T3 and GFX 100S will Have Interchangeable FULL FRAME, APS-C and Monochrome Sensor Similar to Ricoh GXR/S10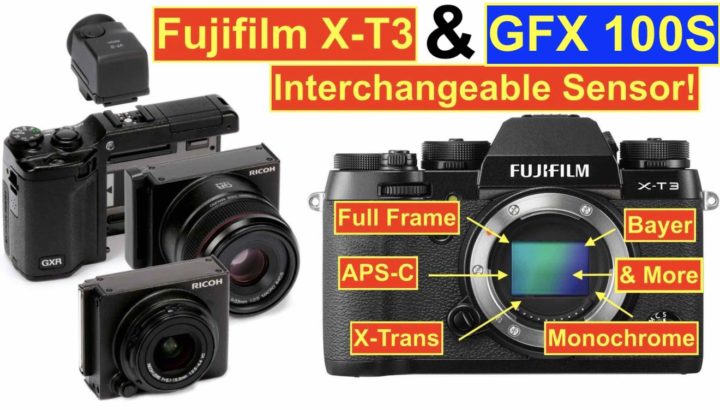 Fujifilm X-T3
Do you like Full Frame? Do you prefer APS-C? Is X-Trans your thing or do you want a Bayer sensor? Or maybe you always dreamed of a monochrome sensor?
Don't worry, to get all of this, you will need just one camera, the Fujifilm X-T3.
Our top trusted Japanese source just told us that the Fujifilm X-T3 will have an interchangeable lens/processor/sensor.
The concept is similar to the one used by the Ricoh GXR/S10, where basically lens, sensor and processor will be integrated into 1 single unit, that you can switch how you prefer.
Our trusted source told us, that at the Fujifilm X-T3 launch in September 2018, the Fujifilm X-T3 will be offered with:
24MP APS-C X-Trans sensor
New X-Trans sensor with less than 30MP
24MP BSI Bayer Full Frame sensor of Sony A7III
Monochrome 24MP Full Frame Sensor of Leica M Monochrom
organic APS-C sensor with global shutter
Along with the Fujifilm X-T3, Fujifilm will also launch the first two Full Frame lenses:
XFF 35mm F1.8
XFF 70-200mm F2.8
I asked our Japanese source if it will have also the option of a Medium Format sensor, but the source said MF sensor would make the Fujifilm X-T3 chassis too big, and Fujifilm wants to keep it smaller than the X-H1.
Fuji's idea is to offer a Fujifilm X-T3, where you guys can still perfectly use all your current APS-C lenses, but if you want, you can slowly transition to full frame and finally spend more money on bigger FF glass.
The source also told us, that the new system is the real reason, why the Fujifilm X-T3 will not have IBIS: it is just technically too complicated at the moment to make an interchangeable sensor system with IBIS incorporated.
The price of the Fujifilm X-T3 will be "extremely agressive" said the source and "lower than current X-T2 price".
You can check out the Ricoh GXR/S10 to get more details on how it works.
Fujifilm GFX 100S
The source also told us that the Fujifilm GFX 100S will also have a completely interchangeable sensor/processor unit, and in this case Fujifilm will offer a monochrome medium format sensor as well as an APS-C X-Trans sensor, so that people, upgrading from APS-C to Medium Format, will be able to use all their Fujinon XF glass on the GFX 100S without needing any adapter
No Full Frame sensor will be offered for the Fujifilm GFX 100S.
On the other hand, the Fujifilm GFX 50R will remain with a fixed MF sensor. The goal of this camera is to make it as cheap as possible.
Stay tuned on FR, not only on April 1st ;) … via Facebook, RSS-feed, Instagram, Youtube and Twitter