Fujifilm X-Pro3 Owners Can Return Their Viltrox Lenses and No Problems with Fujifilm X-T4, X-T3 and Other Cameras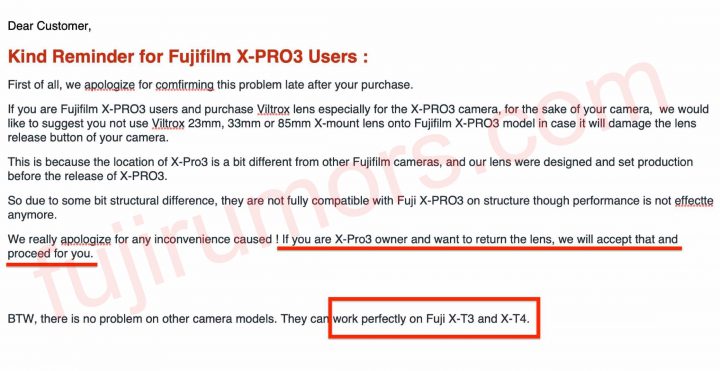 Yesterday on FujiRumors we reported how all Viltrox autofocus lenses can damage Fujifilm X-Pro3 cameras. To see an image of the damage, check out this article.
Well, now Viltrox is letting customers know, that Fujifilm X-Pro3 users can return their Viltrox lens. They also say that there is no problem with other cameras, such as the Fujifilm X-T4 and Fujifilm X-T3.
The screenshot above is from an email a FR-reader got from Viltrox.
Follow FujiRumors on Patreon, Facebook, Instagram, RSS-feed, Youtube, Flipboard and Twitter
Our Owners Groups
Our Facebook Pages