Fujifilm X Photographer Shares Fujinon XF 33mm f/1.0 Image on Instagram. Beta Testing Started?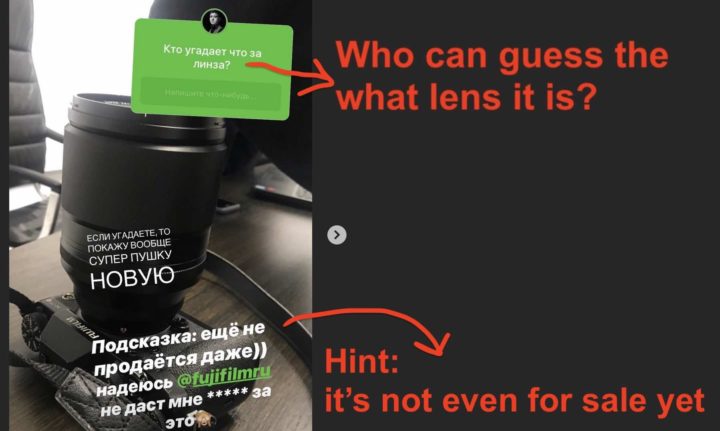 Fujinon XF 33mm f/1.0
Russian wedding photographer and official Fujifilm X photographer Alexey Malyshev (instagram – fujifilm profile) just shared this instagram story, where he publicy asks people to guess which lens is mounted on his Fujifilm X-T3 (or maybe X-T2).
He gave us a hint: it's not for sale yet.
Easy, this is definitely the Fujifilm Fujinon XF 33mm f/1.0 R WR lens, which is scheduled for 2020 release.
I am not sure, but Alexey posts could indicate that the beta testing program just started, but it could also be just a dummy*. In any case I will follow his instagram now, and in case I see images with razor thing DOF, I will let you know ;).
*UPDATE: Jonas Rask said in the comments to this post it is just a dummy, since it does not mount properly
Would be great if any Russian FR-reader could entirely translate what Alexey wrote in his instagram story [UPDATE: translation came in, thanks. Read below].
"Who can guess what lens it is? If lens will be guessed, I gonna show some new super gun. Hint: It's not even for sale yet."
Here on FujiRumors we have discussed the Fujinon XF33mm f/1.0 R WR extensively, for example:
That lens can't come soon enough!!!
stay tuned on FujiRumors… hot rumors are coming soon ;)

Follow FujiRumors on Facebook, Instagram, RSS-feed and Twitter
Our Owners Groups
Our Facebook Pages