Fujifilm X-A7 Discontinued after Only 11 Months: Fujifilm X-A8 Coming or X-A7 Failure?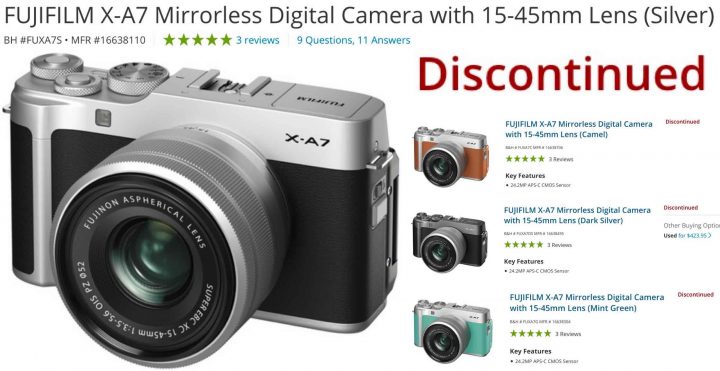 The Fujifilm X-A7 is actually a lovely little entry level camera launched just almost a year ago and hit the market about 11 months ago.
But now it is already marked as discontinued at BHphoto here, it's on low stock or backordered at Adorama here and it's unavailable also at AmazonUS here (where you might find some via third party only) and FocusCamera.
For a long time, the Fujifilm X-A line was an absolute best seller in Asia, especially in Thailand. In fact, pushed by the X-A line, Fujifilm was able to outsell all other camera brands (Canon included) and reach an incredible 50% mirrorless market share.
Don't believe me, but check out the official Fuji-data leaked by FujiRumors here and other Fujifilm manager statements listed below.
Now the options are two:
the camera is going to be replaced already and we will soon get a Fujifilm X-A8
the X-A line lost its magic appeal in Thailand and sold terribly bad
Looking at the Fujifilm X-A line release timeline, we can see that there was a successor about ever 16 to 18 months. If Fujifilm would stick with that, then the Fujifilm X-A8 should come in early 2021. So in my opinion, it's a bit too early to discontinue the X-A7, but maybe Fujifilm doesn't think so, or they are really going to replace the X-A7 earlier than expected.
More likely in my opinion is that the X-A line just lost its magic in Asia, especially in Thailand, and that it fell victim to the rise of smartphones and to COVID-19.
Fujifilm X-A line success story:
Follow FujiRumors: Patreon, Facebook, Instagram, RSS-feed, Youtube, Flipboard and Twitter
Join Our Owners Groups
Join Our Facebook Pages