Fujifilm Manager Interview: Great Fujifilm GFX Sales, X70 Successor and Sony, Canon, Nikon FF Mirrorless: "We Will Work Hard to Keep Our Uniqueness"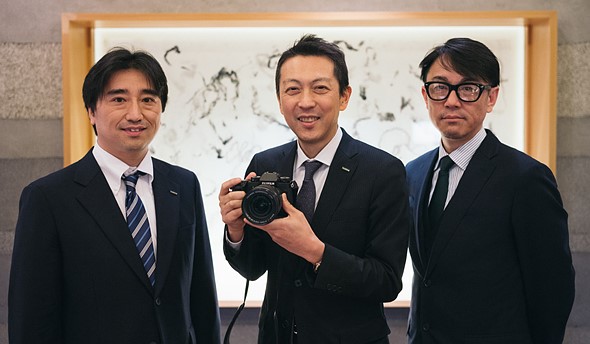 DPReview interviewed three of the most representative Fujifilm mangers: first and foremost nothing but "official FujiRumors.com Lover" Toshihisa Iida, as well as Makoto Oishi and Shin Udono.
Here some excerpts:
Fujifilm GFX 50s

We've shipped more than we expected and planned for. Even more impressive is the lens attachment rate, as we've sold so many lenses as well. Overall, GFX sales have exceeded our predictions. […] Something that we didn't expect was the number of high-end amateurs buying the GFX system. According to our survey, 80% of users are non-professional, and 20% are professional. That was a surprise. […]
Many customers may want to use their existing lenses on a GFX body, so we support many third-party adapter manufacturers to provide lens adapters. […] We're surprised too that we can find over 100 lens adapters in the market, with 28 types of mounts.
At the moment, yes [we are currently more focused to make prime lenses], but we are aware of requests from customers for other zoom lenses.
Fujifilm X-H1 and X-E3
customers actually requested a bigger grip and better handling [to use especially with bigger lenses like the 100-400 and future 200mmF2]
Last September, we went the opposite direction with the X-E3. We said, 'this is a minimalism camera.' Less is more. One reason for these lineups is that each photographer, each customer, requires a different style of camera.
APS-C + Medium Format… and What about Full Frame?

At the moment, we don't feel that there's anything we need to add [in addition to APS-C and MF], but we do want to focus on APS-C cameras. We think that's a good format for the best balance between size, speed, quality, and now we have the GFX [for even greater quality].
Fujifilm X70 Successor?
Yes, we are considering it
Video Vs. Stills
I think we will see more users transition from stills to video rather than the other way around
Kaizen Updates
Yes, that's technically possible [X-H1 autofocus enhancements on X-T2]. We continue to be committed to firmware upgrades, but we need to decide which cameras really require new functionality.
The Future
there is much room to improve stills photography functionality [firmware and hardware]
Competition: Sony, Canon and Nikon
We will see more competition with Canon and Nikon as well as Sony, but we will work hard to keep our uniqueness
Canon and Nikon Full Frame Mirrorless Coming
My answer was always, 'welcome.' Because having those strong brands in the mirrorless marketplace increases general awareness of mirrorless, and that's a good thing for the whole industry. […] We will see more competition with Canon and Nikon as well as Sony, but we will work hard to keep our uniqueness in design and usability; [one big way] we differentiate is by our analog controls. And of course, we need to keep innovating inside our cameras as well, improving the sensor, processor, and also by introducing new lenses.
Asian Vs. USA Market
For the US market, we definitely have focused on the high-end side, and that has been successful.
If you look at the Asian market, the X-A series are really popular mirrorless cameras. In Thailand, our market share for mirrorless is over 40%. […] these customers are used to smartphones, and they're switching to mirrorless.
Make sure to read the whole interview at dpreview here.
Fujifilm GFX 50S + Any GF lens* (save $1,000): BHphoto, Adorama, AmazonUS
* GF63mmF2.8 / GF45mmF2.8 / GF32-64mmF4 / GF120mmF4 / GF110mmF2 / GF 23mmF4
Fujifilm X-H1 Bundle Deals – Save $150
Adorama + BHphoto include Free Domke Bag
with XF 16-55: BHphoto, AmazonUS, Adorama, Focuscamera
with XF 50-140: BHphoto, AmazonUS, Adorama, Focuscamera
with XF 100-400: BHphoto, AmazonUS, Adorama, Focuscamera
with Vertical Grip + XF 16-55: BHphoto, AmazonUS, Adorama, Focuscamera
with Vertical Grip + XF 50-140: BHphoto, AmazonUS, Adorama, Focuscamera
with Vertical Grip + XF 100-400: BHphoto, AmazonUS, Adorama, Focuscamera
Fujifilm X-H1
All combos: BHphoto, AmazonUS, Adorama, Focuscamera