Fujifilm Top Manager Toshihisa Iida "Loves" FujiRumors :)… Celebrating 40,000 FujiRumors Facebook Followers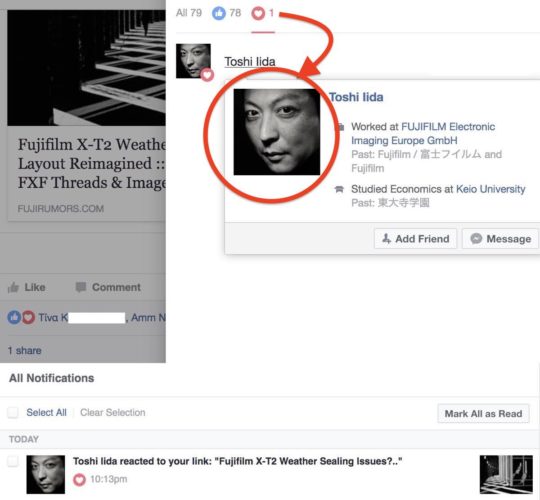 40,000 Thank You
5+ years ago, I was just a guy, a teacher, sitting in a 65 square meter rented apartment, driving a Mazda2, with a revived passion for photography thanks to the X-series. A passion, that I decided to share with you via FujiRumors.
And actually, 5+ years later, not much has changed: I'm still the same (a bit older) guy, the same teacher, in the same 65 square meter rented apartment with the same Mazda2, and still fascinated by what Fujifilm is creating.
The thing that DID change, though, is that in these 5+ years, FujiRumors has become the largest community for all things Fuji X and G on the web.
And just today we reached 40,000 FR-facebook followers.
I'd like to celebrate this with the whole community and express a huge THANKS to all of you! :-)
The fact that such a huge community came together here around this blog, has become the by far the biggest motivation for me to keep up doing what I do day after day.
The FujiRumors "Lover" You Would not Expect
Oh, and amongst these 40,000 "FujiRumors Freaks" like me and you, there are also some you would not expect ;)
In fact, I noticed that recently Fujifilm's well known Top Manager Toshihisa Iida put a "love" to at least one of our FR-facebook posts… so yes, also he is reading us :)
I know, this might seem nothing special to you, but for me it means a lot.
I never really know what Fujifilm thinks about FujiRumors (I have no contacts to them). But this "love", this little sign from Fujifilm's most representative Manager, shows me that FujiRumors and Fujifilm might have some inevitbale frictions occasionally, but at the end of the day Fujifilm appreciates my work here, which is to keep you guys informed and excited about all things Fuji X and G.
And I believe that Fujifilm does like this blog especially because they hugely profit from the immense and valuable feedback you guys give them day by day in the comments and in polls.
All of you guys, including the 40,000 FR-facebook followers and the 13,000 Twitter followers, make it possible that Fujifilm Managers read and listen to us.
thanks for everything,

Fuji X Forum, Facebook, RSS-feed and Twitter