Best Selling Gear 2022: Fujifilm X-T5 Dominion, Lens Surprise and About Entering a Photography Store with my Wife ;)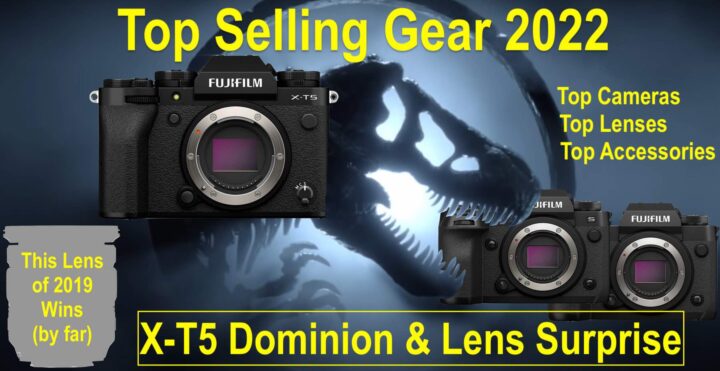 Best Sellers 2022
It's time to look back at what sold most among the FujiRumors community in 2022.
The data is based on affiliate sales made via Amazon and BHphoto.
Sadly I don't use the data of Adorama, as I have not found an easy way to display and rank the products. All I get is a list of numbers like "1236.5478.701164" and then I have to click on each number to see which product it is.
For the sake of my mental health, I can't do that.
TOP SELLING ACCESSORIES

Finally the custom X hot shoe covers are widely available on Amazon, and it seems people love them (I own them too).
As for Nr.2 and Nr.5 on the list, these items definitely profited from the launch of the Fujifilm X-T5 and X-H2/s as for many of you, those cameras were also their first X series using the newer battery.
Interesting:
Most people went for the original battery as opposed to the third party options (just as I recommended in my article). I've even made the sum of the best selling third party NP-W235 battery options (Smallrig, Poweextra and Wasabi), but even in that case, the original battery has a distinct and safe advantage.
When it comes to the dual charger, most picked the third party Nitecore option over the original dual charger. I own both chargers and I have quickly explained the difference between the two in my top 5 recommended X-T5 accessories.
The fact that there is no selfie screen on the X-T5, also forced us X-T5 shooters to buy X-T5 protective glass.
TOP SELLING GEAR OVERALL
I make a prediction: the Fujifilm X-T5 will be matched in terms of sales only by the Fujifilm X-T6. The only camera that has a chance to even come close to it, would be an eventual Fujifilm X100V successor (the Fujifilm X200, or X100Vs, or X100VI or however they are going to call it).
TOP SELLING CAMERAS
In a normal year, the X-H2 and X-H2s would have been celebrated as top sellers with respectable sales number.
But 2022 was not a normal year: it was the year of the Fujifilm X-T5!
The X-T5 came here to do what it has to do: demolish the internal competiton and establish itself one more time as the top tier in the Fujifilm lineup. In fact, it was responsible for 65.5% of total camera sales via FujiRumors.
A pity for the Fujifilm X100V, which is basically out of the ranking just because it hasn't been available most of the time. If supply would have been normal, I think it would have made it into the top 4 positions.
What about the last year best seller, the Fujifilm GFX100S?
Well, it has been beaten by the Fujifilm GFX50SII, but only by 1 camera. So it's basically a head-to-head. That's astonishing, considering that the GFX50SII was in offer basically for the entire year with several more or less massive rebates, whereas the Fujifilm GFX100S saw it's first time ever rebate only very recently.
So, despite Fujifilm being much more agressive with the GFX50SII, the GFX100S stands its ground and is actually about to pass the GFX50SII thanks to this sweet deal.
TOP SELLING LENS OVERALL
Surprised? I certainly was initially.
I mean, how can a lens announced back in 2019 become, by far, the best seller in 2022?
The explaination is simple: the XF16-80mmF4 (as well as the XF18-55mmF2.8-4) enjoyed a substantial sales push because it was offered in bundle with Fujifilm X-T5.
But this alone would not be enough.
Fujifilm also initally shipped out way more X-T5 kits than body only, so if we wanted to wait less for our new camera, we had to grab the X-T5 kit. And this makes Fujifilm more money.
Cynical?
Probably, but Fujifilm is just a business as many others, and other companies are no different. And yet, I wish Fujifilm would have done differently.
Anyway, the good thing is that if you bought it with a bundle, you got the lens for a discounted price. That's already nice. And you always have the option to sell it "like new" so you should get back most if not all of the money you've invested in the lens. Or simply use it and enjoy the lens :).
TOP SELLING FUJINON X/GFX LENSES
We have a rocksolid performance for the XF56mm f/1.2 MKII. No need for deals or bundles to push that one.
Excellent sales (and very close to grab the second spot) is the Fujinon XF150-600mm f/5.6-8. Looks like a wise decision by Fujifilm to make it smaller, lighter and more affordable thanks to its f/8 on the long end.
Oh… and I made the mistake to enter a photography store with my wife… here is what happened.
So, the lovely new 30mm Macro enjoyed great sales, too. I handled one in store myself, and if my wasn't for my wife being in the store with me, I probably would have left the shop with one for myself. But my wife just asked "don't you already own a Macro lens"? And since I had no brilliant answer to give, I passed. Please guys, advice me on what to say next time ;).
On Nr.7, an all time favorite for many of us, the lovely Fujinon XF27mm f/2.8 R WR.
In the GF world, the new GF 20-35mmF4 is selling strong.
A crazy good deal is also pushing the GF35-70mm to great sales. For 500 bucks you get a compact allrounder zoom lens capable of resolving 100+ megapixel. It would be too good to pass also for me, if I'd not already own the GF32-64mmF4.
And yes, I know there is an unwritten rule that every list should end with the Nr.10, but the sales of the lenses on the 11th position were so close to the XF16-55mmF2.8, that I felt I need to include them.
For Fujifilm, I guess the biggest disappointment are the sales of the video-centric Fujinon XF 18-120mm f/4 PZ. I guess it's a niche lens within a niche brand, so one can not expect all too stellar sales.
TOP SELLING THIRD PARTY LENSES
There was a time, when the third party ranking was dominated by manual focus lenses. But those times are gone.
Since Fujifilm took the (long delayed) decision to open their mount, other companies like Sigma, Tamron, Tokina, Viltrox, TTArtisan and Samyang started to offer X mount AF lenses. A decision rewarded by Fujifilm X shooters, who now prefer to grab third party autofocus lenses over the manual versions.
And 2023
Well, I can't say what will sell best in 2023, but I am confident that all the lenses on the current X and GFX roadmap will do very well.
Out of the lenses in the X and GFX roadmap, the one that intrigues me personally most is the GF55mm f/1.7 followed by the XF 8mm f/3.5.
As for cameras… well, for that, my friends, you'll have to read FujiRumors also in 2023 to find out :).
Follow FujiRumors on Patreon, Facebook, Instagram, RSS-feed, Youtube, Flipboard and Twitter
Top 3 Cameras of 2022
X/GFX Deals End Soon