These are the Top Sellers 2020 on FujiRumors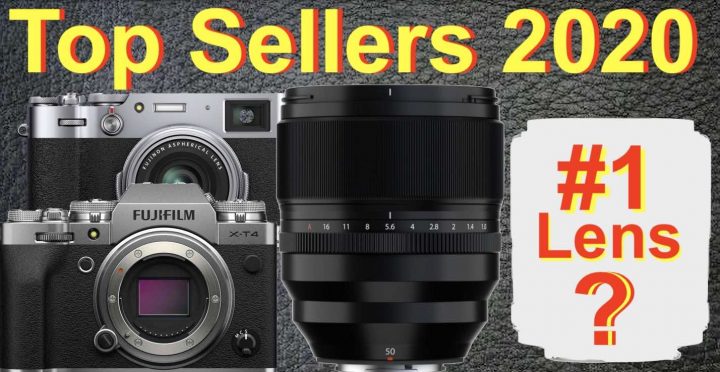 In 2019, smartphones killed the entry level market forcing Fujifilm to discontinue the X-T200 and also the Fujifilm X-A7 in a record-time of just a few months after release.
And in 2020, a worldwide pandemic and global recession had a terrible impact on sales of mid/high-end gear, which was the segment Fujifilm (and other brands) were focusing on to escape the stranglehold of smartphones.
And yet, it's not all bad for Fujifilm.
In fact, statistics show that Fujifilm was the one brand, who could resist best to COVID-19, with just a slight decrease in sales compared to the previous year. Also Fujifilm managers confirmed that Fujifilm is holding on better than other brands in 2020, especially thanks to the Fujifilm X-T4 and X100V.
And in fact, the X-T4 and X100V where the best selling cameras also here on FujiRumors in 2020.
But let's look at it closer and see which gear was the most successful among the FujiRumors community.
Top Sellers 2020
TOP SELLING PRODUCT OVERALL
This comes totally surprising, as this category is usually won by some more affordable accessory. Last year for example the winner was the Anker PowerCore+ 26800 PD, which is officially recommended by Fujifilm to charge your cameras, while in use or when switched off.
TOP SELLING ACCESSORIES

In the light of the X-T4 success, it's no surprise that the second spot is taken by the Fujifilm NP-W235 battery. I bought a second one too, but so far I was always able to go through a day of shooting with one battery.
I bought the SanDisk 128GB dual USB-drive myself, as I own a MacBook Pro with USB-C only, but my school still uses computers with USB 3 and also on travels, when I need to print a flight ticket and ask the reception to do so, they usually do not have USB-C connection. This SanDisk 128GB dual USB-drive solved this problem, as it works with both, and is also extremely small.
TOP SELLING CAMERAS
No surprise on the top two positions.
The third spot goes to the X-T3 pushed by a $500 rebate (now removed). However, despite the massive X-T3 rebate, the Fujfiilm X-S10 came extermely close to the Fujifilm X-T3 in terms of sales. This is surprising. As we explained in this article, the X-S10 outsold the X-T30 by 60% on FujiRumors. Never a mid-range camera sold that strong. Fujifilm must have done somthing right with this camera, and it certainly deserves lots of success. It is the best value for money camera you get these days.
TOP SELLING LENS OVERALL
The winner in 2019 was the Fujinon XF35mm f/2 and in 2018 it was the Laowa 9mm F2.8 Zero-D. Now in 2020 the spot goes back to a third party lens, the Viltrox 56mm f/1.4 AF. But it was a very close call. Viltrox had a huge black Friday sale, which pushed the lens on top. But if it wasn't for the sale, the top spot would have been taken by the Fujinon XF50mm f/1.0.
TOP SELLING FUJINON X LENSES

Usually this ranking is dominated by the small and affordable Fujicron line. But this year the Fujinon XF50mm f/1.0 impressively claimed the top spot, beating all other Fujinon lenses by a large margin. No wonder that good thing is still hard to find in stock.
A sweet deal running on the Fujinon XF16-55mm f/2.8 pushes the lens on the second position and same goes for the XF55-200mm.
TOP SELLING GFX GEAR
The Fujinon GF50mmF3.5 takes the top spot. And in fact, it is the second most sold Fujinon lens overall if we'd take the APS-C line into account, beating the XF16-55mmF2.8 and the XF55-200mm. That's quite impressive.
The Fujifilm GFX50R dethrones the Fujifilm GFX100 thanks to a $1,000 price drop througout the year. The Fujinon GF110mmF2 remains one of the favorite lenses of GFX shooters.
TOP SELLING THIRD PARTY LENSES

Well, that's what I call a domain!
Third party autofocus lenses are finally a real thing also for the Fujifilm X system. Viltrox outsold all manual focus lenses. And the rebranded Tokina versions are no real competitor: same lenses, just more expensive!
But something tells me we will see quite a shake-up in 2021, when according to our exclusive rumors, SIgma will join the Fujifilm X mount autofocus lenses club. It will be very interesting to see, which lenses they will launch first. FujiRumors readers have already voted for their favorites here.
TOP SELLING SOFTWARE

Last year Capture One crushed all other editing software companies. There was no race at all. But this year Luminar surpassed Capture One thanks to Luminar AI.
I can understand the appeal Luminar AI has. If you are a content creator that relies on sharing regularly on social media, having an AI packed editing software that allows you to get great results in no time, Luminar AI can be extremely useful.
You know that I left Lightroom for Capture One, but given Luminar's success, I might maybe dig into this software deeper in 2021 and see if I can fall in love with it as much as I hear others do.
More or less following the same philosophy of Luminar, also Topaz Labs makes good use of AI for a variety of products. You can see a brief and clear overview in this article.
And 2021?
Well, I have a feeling on how this list could change in 2021… but I can't say more for now ;).
However, you can make your guess, and next year we will check back who has come the closest :).
Wait… there was one more thing I wanted to tell you… I forgot… but it was important…
Oh right… I wanted to invite you to follow FujiRumors also on Facebook, RSS-feed and Twitter to get be notified when new rumors are shared and if you want to see more private stuff, feel free to follow FR on Instagram.
Join Our Owners Groups
Join Our Facebook Pages