These are the Top Sellers 2021 on FujiRumors: GFX100S Rules Them All and Best Selling Lens is…?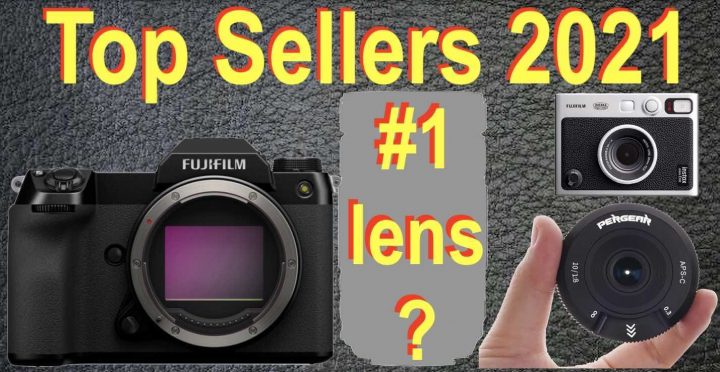 While 2020 was tough due to the rise of the pandemic and several lockdowns around the world, in 2021 the industry had to face also the challenge of the parts shortage.
In the Fujifilm world most noticeable of all were (and are) the struggles Fujifilm has to deliver our gear. I consider myself lucky, as I had to wait "only" half a year for my Fujifilm GFX100S and I was able to grab the last XF27mm f/2.8 R WR available at my local store, but others are waiting for almost a year now on certain gear and tons of Fujifilm gear was out of stock for large part of 2021.
So let's hope that everything will go back to normal during 2022, first of all for us, who would love to go back to our normal lives, and also for Fujifilm, so that they can feed our passion for photography with new and exciting gear without letting us wait to long for it to be delivered at our homes.
With that said, it's time to look back at what sold most among the FujiRumors community in 2021 (if you are curious to know which gear sold strong in 2020, check out this article).
Top Sellers 2021
TOP SELLING ACCESSORIES

Anker PowerCore+ 26800 PD (officially recommended by Fujifilm to charge your X/GFX cameras)
TOP SELLING CAMERA OVERALL
There was no battle. It outsold them all. No wonder the GFX100S is a rare good on the market these days. Good luck finding one.
TOP SELLING CAMERAS
I bet not even Fujifilm itself saw this massive success for the Fujifilm GFX100S coming. Among the FR community it outsold by a large margin every other camera, even the Fujifilm X-T4. A homerun. And as an owner of the Fujifilm GFX100S myself I can understand that this camera is making many people very happy right now.
Not surprising, the X-T line keeps to be on top of the X series, just beaten by the GFX100S.
However, huge struggles for the X-T30, dethroned by the stellar X-S10. The new X-T30II did not reinvigorate the sales at all. What Fujifilm needs to give us now is a Fujifilm X-T40 with IBIS.
TOP SELLING LENS OVERALL
Usually this raking is dominated either by some more affordable third party lenses (last year won by the Viltrox 56mm f/1.4 AF or in 2018 by the Laowa 9mm F2.8 Zero-D) or by those lovely small and compact Fujicron lenses (in 2019 won by Fujinon XF35mm f/2).
And while the Fujinon XF50mm f/1.0 came very close to winning it back in 2020, this year there is a clear winner: the Fujinon XF70-300mmF4-5.6!
TOP SELLING FUJINON X/GFX LENSES

Sure, the XF70-300mm is the king, but the ultra fast GF80mm f/1.7 sold incredibly well, better than any other Fujinon XF lens that is not the XF70-300mm. Another GF lens in the top seven, with fantastic sales, is the Fujinon GF 35-70mmF4.5-5.6.
As far as I can remember, it is the first time I see any GF lens in the top 10 selling list, and this time we have even two of them. The inevitable signs of a huge rise for the GFX system.
And despite the original XF27mm f/2.8 being one of Fujifilm's most sold lenses of all time (I am not kidding, until 2016 it was the best seller only behind the original XF35mm f/1.4), the XF 27mm f/2.8 R WR entered the top 3 positions. Surely it helped that it came bundled with the X-E4. Many original XF27mmF2.8 lovers, however, also purchased it (like me) separately, just because it had the one feature that we missed on the first version: an aperture ring (and weather sealing too).
Great sales also for the new f/1.4 trinity of lenses launched this year and the best seller of last year, the Fujinon XF50mm f/1.0, resisted in the top 10 ranking also in 2021.
TOP SELLING THIRD PARTY LENSES

Tamron picked such a smart lens to enter the X system, and the FujiRumors community did reward them with great sales. What I didn't see coming are the good sales for the super small and super affordable Pergear 10mm f/8.
TOP SELLING SOFTWARE

Last year Luminar did beat Capture One, but the release of Capture One 22 changed the ranking again, putting the software of my choice back on top of the ranking.
From zero to (almost) hero also for DxO PhotoLab, which thanks to fresh X-Trans support entered the ranking of the top selling software.
TOP SELLING INSTAX
The closest item in terms of sale to the Fujifilm GFX100S was the Fujifilm Instax Mini EVO. And huge success also for the long awaited Fujifilm Instax Link Wide Printer.
And 2022?
I am pretty confident that the Fujifilm X-H2 and the XF150-600 will enter the ranking. Sigma basically announced already that there will be X mount lenses, so I guess we will see them at some point in 2022, and if they make wise picks (with lenses like this for example), then I can see them crushing into the top seller ranking for 2022.
And of course there will be more. But for that, you will have to follow FujiRumors very closely ;).
For now, feel free to make your guessed/wished top selling ranking for 2022. It will be fun to look back next year at it and see how good your guesses were.
Join Our Owners Groups
Join Our Facebook Pages