2019 Mirrorless Camera Market: FUJIFILM is Solid Third with 500k Shipments Behind Sony (1.65 million) and Canon (940k)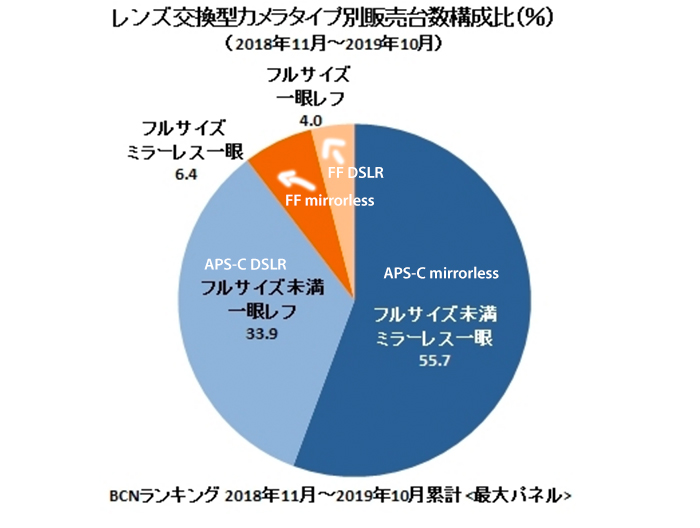 You might remember, how Techno System Research (a major marketing research company located in Japan) shared data regarding the 2018 global mirrorless camera market share. We saw that Fujifilm was on an impressive 3rd position, very close to Canon. Check it out here.
We also reported the Techno System Research data for 2019 in this article, where we saw that in terms of overall interchangeable lens camera sales, Fujifilm was on the 4th position.
Now we have a more detail report, that splits the overall and the mirrorless interchangeable camera shipment data.
We can see that Sony is the king of mirrorless, with 1.65 million cameras shipped.
According to what have been told to me, the majority of those Sony sales belong to the APS-C Sony A6000 series. And this seems to be confirmed by BCN data shared at mirrorlessrumors here.
Shipments of interchangeable lens cameras in 2019
Canon: 4.16 million
Nikon: 1.73 million
Sony: 1.66 million
Fujifilm: 500,000
Olympus: 330,000
Others: 280,000
Shipments of mirrorless cameras in 2019
Sony: 1.65 million
Canon: 940,000
Fujifilm: 500,000
Olympus: 330,000
Nikon: 280,000
Others: 240,000
Considering that in the past, Fujifilm needed about 3 years to sell 700,000 cameras, hence about 230.000 camera a year (data of 2013), being now able to sell 500,000 in one single year is definitely an improvement.
Of course these data have to be put in a context. But overall I think Fujifilm is in a safe position, considering many consider Fuji an irrelevant niche, but turns out that it's outselling Nikon in the mirrorless market segment.
Olympus pulled out already (and as a former Olympus shooter, I wrote an emotional farewell to Olympus). The "Others" section, hence Pentax, Panasonic and Co, are also more in trouble than Fujifilm. And probably the most shocking situation is the one of such a glorious company like Nikon, who is rapidly losing terrain.
If I should place my bet, on which will be the top three camera companies 5 years from now, I'd say Sony, Canon and Fujifilm.
via digicame-info via Nikkei