This Guy Mounted the Fujinon XF 56mmF1.2 on Sony A7R and Shows it Covers Entire Full Frame Sensor Area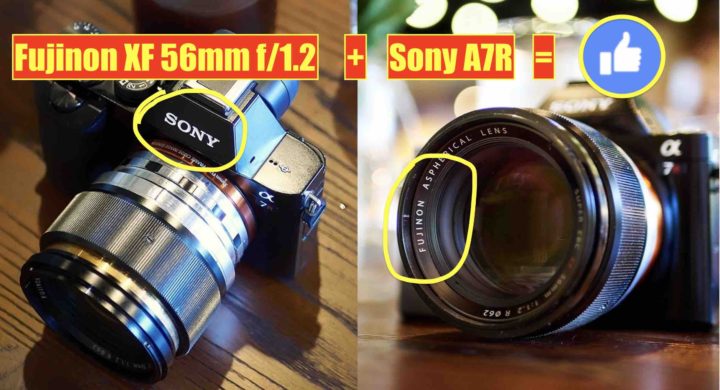 Fujinon Lenses on Full Frame Sensor
Back in 2015, John investigated the question if Fujinon X glass can cover larger sensors areas than APS-C, by projected the light passing through Fujinon lenses on a piece of paper (full report here). His conclusion:
"I could be wrong in my assumptions, […] but this difference between the Samyang and Fujinon lenses is proof enough for me that the X-mount can handle a larger sensor."
But John's test was only theoretical.
What happens if you really mount a Fujinon lens on a full frame camera? Will there be heavy vignetting or not?
Albert tried to answer this questions by modifying the mount of his Fujinon XF 56mm F1.2, and basically making a Sony E-mount lens out of it.
And it did work out very well. Albert writes:
"Lucky for me, it turns out to work pretty well, the XF56mm F1.2 covered the full frame sensor nicely, and the performance is on par with the popular classic lens, such as Canon FD 58mm f1.2 and Nikkor 50mm f1.2"
I wonder, which other Fujinon lenses would cover full frame, too.
I guess red badged lenses such as the XF16-55, XF50-140, XF200mmF2 and XF8-16 as well as fast primes like the Fujinon XF35mmF1.4 and XF23mmF1.4.
You can read the whole article all and see the pictures at foodgrapher here. The article is dated October 2018 but passed unnoticed to all, until a FR-reader (thanks) send me the link via anonymous rumor box and I can now share it on FR. Thanks for your support also in 2019 :).
Fujifilm will Never go Full Frame
And before you start suggesting Fujifilm should put a full frame sensor into the existing X mount…
In no way I want to suggest that Fujifilm will go full frame. I share this test only to show how big the circle of projection of certain Fujinon lenses is, and Fuji's APS-C camera use only the central (and best) part of the light circle.
And don't forget: Fujifilm boss (and FujiRumors "lover") Toshihisa Iida said loud and clear: "Fujifilm will NEVER go Full Frame". Hence, I can't see Fujifilm going full frame in any form or shape.
DON'T FORGET TO FOLLOW and JOIN: