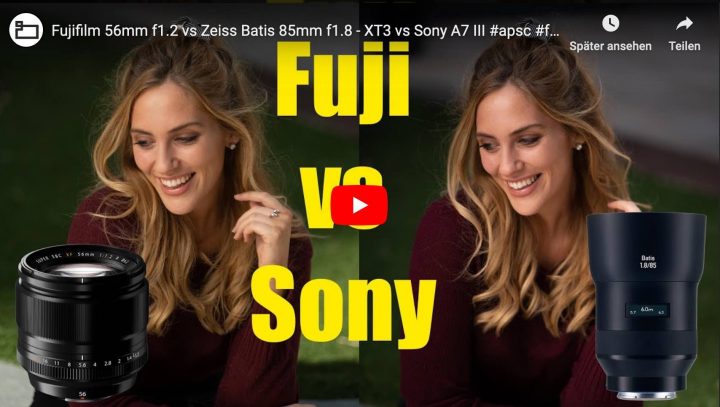 Fujifilm vs Sony
Sonder Creative and Anete compared the Fujifilm X-T3 with Fujinon XF 56mm f/1.2 with the Sony a7iii with Zeiss Batis 85mm f/1.8.
At the end it is a split decision, with Anete preferring the Fujifilm system and Sonder Creative the Sony system.
But I want to highlight one thing, before I leave you to the video and a summary down below.
We know that, in terms of depth of field, f/1.2 on APS-C does not give the same results of f/1.2 on full frame.
In fact, f/1.2 on APS-C is closer to f/1.8 on full frame, and this is why on this comparison you don't really see any difference in terms of depth of field between the Fuji and the Sony (except for the bokeh quality, which is better on the Fuji.)
The point?
When Sonder Creative exposed properly both images (base ISO, and widest aperture), he noticed that the shutter speed was completely different:
FUJIFILM: ISO 160 – f/1.2 – 1/8000
SONY: ISO 100 – f/1.8 – 1/3200
He concludes saying that:
one of the advantages of shooting with APS-C, is that you can shoot with a much faster shutter speed compared to full frame
Seen from this perspective, the light gathering capability of f/1.2 on Fujifilm APS-C is and remains f/1.2.
I thought I point this out and let you discuss about it.
FujiRumors is everywhere: Facebook, RSS-feed, Instagram, Youtube and Twitter
And now to the video and the summary: