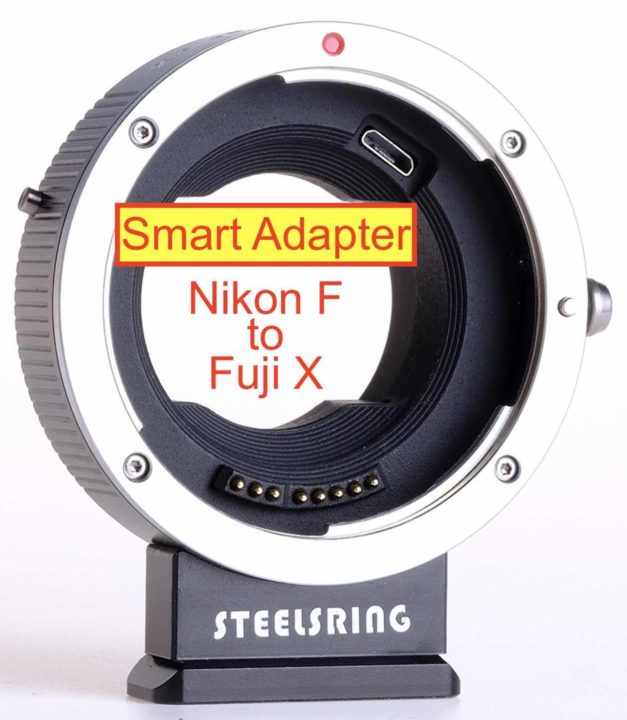 Nikon F to Fuji X Smart Adapter
Here on FujiRumors, we value your time and we want it to be time well spent, which is why we don't like to regurgitate old news, since we are full of fresh news and rumors every day :)
However, today I woke up and found a few emails in my inbox from readers, asking me if I ever heard about the Steelsring Nikon F to Fujifilm X smart adapter.
So I figured out that in this case, it might be useful to share a reminder, since you might have missed it…. repetita juvant, as they say.
We reported back in May, that the Nikon F to Fuji X (as well as Nikon F to Fuji GFX) smart adapter is in development. Then, last month here, we showed you a first video demo of the GFX to Nikon F smart adapter version.
You can check out more at steelsring here.
If this adapter works well, then this could help to keep up the migration from Nikon to Fujifilm, which Nikon is trying to stop with the Nikon Z6 and Nikon Z7 (about time, Nikon!).
Nikon users could continue to switch to Fujifilm and keep some of the Nikkor lenses they grow fond to. But I am pretty sure that once they enter and meet the Fujinon XF lens system quality, selling their Nikkor glass will become much easier than they would think ;).
Lots of other news, but also TONS of exciting rumors are coming… NOW! Make sure not to miss them hit the bell on the bottom right of your browser, to get instant browser notifications.
And I am warming up my fingers right now for a very exciting X-T3 live blogging. :)
Follow FujiRumors at Facebook, Instagram, RSS-feed and Twitter
Facebook User Groups for Fujifilm X-T, GFX, X-H, X-Pro, X-E and X100 line