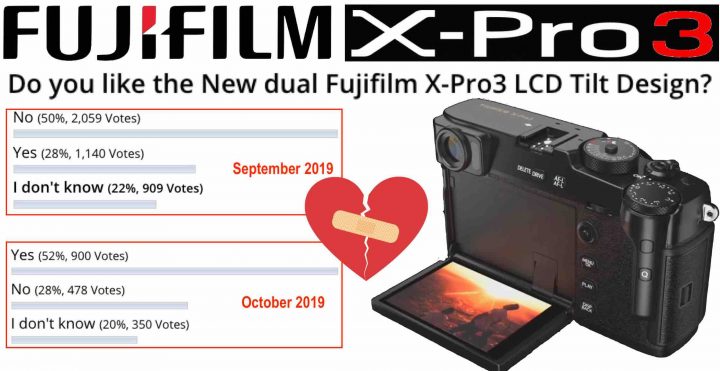 The Fuji World is upside down!
When we first leaked the Fujifilm X-Pro3 tilt screen, I asked you if you liked it. The result can be seen down below.

As you can see, I myself voted "I don't know".
I was very skeptical, didn't understand it, but decided to wait until I have it on my hands, to form my final opinion.
And then something happened.
Over the last few weeks, more and more of you guys in the comments said something like "the more I look at the new screen, the more I start to like it!"
I felt that something changed, and so yesterday, after the massive X-Pro3 leaks, I launched the same survey again here. And look how you voted.

It's basically the exact opposite result of 1 month ago.
So what happened?
Well, I think we all just needed time to "understand" the idea behind the screen.
We had heated discussions about the screen:
read here – Fujifilm X-Pro3: You Don't Get it, the new Screen is a Smart Move!
read here – Some LOVE the Fujifilm X-Pro3, and Here is Why!
And at the end it seems that, while surely still a divisive feature, the majority of us decided that Fujifilm's attempt to create a different photographic with the X-Pro3 just makes sense.
And FujiRumors?