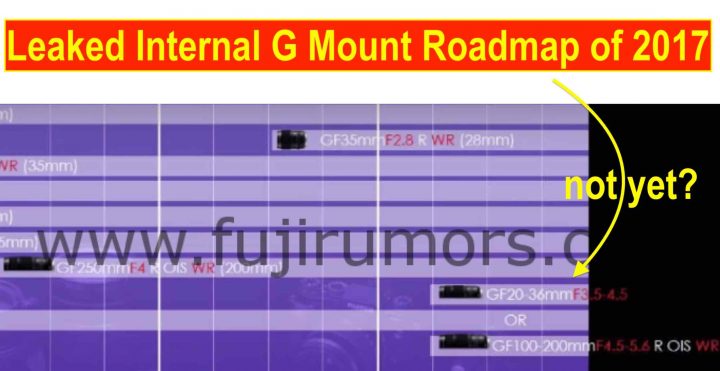 When we told you that Fujifilm will launch a new GF zoom in the first half of 2021, many were sure: this has to be the Fujinon GF 20-36mm F3.5-4.5!
But where does that Fujinon GF 20-36mm F3.5-4.5 rumor come from?
Well, it comes from an internal Fujifilm roadmap we leaked back in 2017 here.
As you can see, everything that was on that roadmap materialized at some point, except for the UWA Fujinon GF 20-36mm F3.5-4.5.
But if you look closely, the internal roadmap says "GF20-36mm" or "GF100-200mm". And, well, in 2019 Fujifilm announced the Fujinon GF100-200mmF5.6.
Why this intro?
Well, because we recently told you the following about the upcoming Fujinon G mount zoom lens that it will be:
And here comes the speculation (not rumor).
The Fujinon GF 20-36mm F3.5-4.5 would be a a 16-28mmF2.8-3.5 full frame equivalent lens (or 10-18mm f/1.8-2.2 APS-C equivalent), and usually such wide angle faster zoom lenses are not the cheapest on the market, unless you go with third party offerings like the Tokina 16-28mm f/2.8.
So either Fujifilm worked miracles and is about to give us an ultra affordable UWA lens, or the lens we are talking about is not the Fujinon GF 20-36mm F3.5-4.5.
I don't know the answer yet, but if I should place a bet right now, I'd not put my money on a GF20-36mmF3.5-4.5 lens, but on a very affordable travel zoom lens, which will still be able resolve all the 100 megapixels the GFX system offers, but maybe be made more out of plastic and have a slower aperture.
Sort of something we know from the Fujinon XC lenses, although I hope it will retain the aperture ring, the lack of which would be a dealbreaker for me.
But again, this is pure speculation from my side. Not a rumor.
The GFX Community
Follow FujiRumors: Facebook, Flipboard, Instagram, RSS-feed, Youtube and Twitter