Top 10 Differences Between Fujifilm GFX100S and GFX100 plus Complete Specs Comparison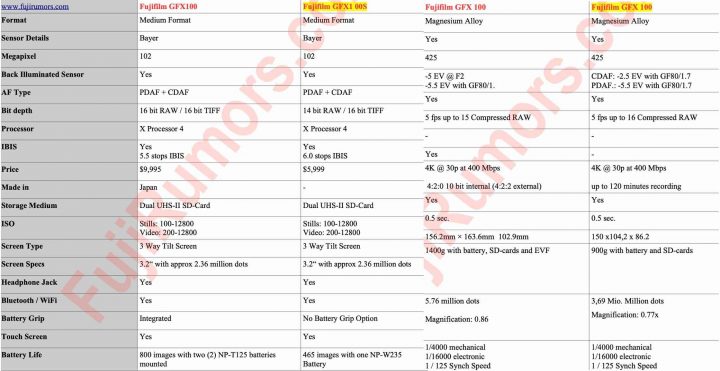 Here is the complete specs comparison between the Fujifilm GFX100S, the GFX100 and the GFX50S.
You can see the comparison down below.
Here are the top 10 differences:
GFX100S has slightly higher burst rate (16 fps instead of 15 fps)
GFX100S has lower res EVF and is not removable
GFX100S has no battery grip option
GFX100S has 0.5 stops better IBIS than GFX100
GFX100S has shoots 14 bit RAW and GFX100 16 bit
GFX100S is substantially cheaper ($5,999 vs $9,999)
GFX100S has better battery life with 1 single battery (465 shots instead of 400 shots)
GFX100S is substantially smaller
GFX100S has nostalgic negative film simulation and GFX100 not (or not yet)
Well done, Fujifilm!
All the goodness will drop on January 27 at 8AM New York time.
Follow FujiRumors on Patreon, Facebook, Instagram, RSS-feed, Youtube, Flipboard and Twitter