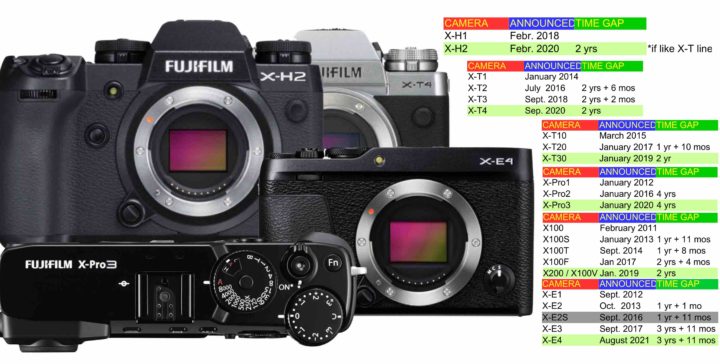 Fujifilm Timeline
Today I decided to take a look at the refresh rate of the top/mid range Fujifilm cameras and tried to make a guess (NOT A RUMOR) about when the Fujifilm X-H2, Fujifilm X-Pro3, Fujifilm X-E4, Fujifilm X-T4, Fujifilm X-T30 and Fujifilm X200 (or X100V) can be expected.
Overall we can see how the Fujifilm X-E and X-Pro line are gravitating towards a 4 years refresh time, whereas X-T and X100 line are close to a 2 years refresh time.
WARNING
This is not based on rumors, and it's not said that Fujifilm will always keep the same product refresh rate. Everything can change anytime.
NOT INCLUDED:
All 2/3 sensor cameras are not included, since the won't ever get any successor (not even 1 inch sensor cameras, no matter what old patents say)
X70/XF10: XF10 is not the X70 successor. It's unclear if there will be a Fujifilm X80 at some point
X-A line has a high refresh rate, but the FR community is for the most part not interested in this camera line
GFX 50S, GFX 100S, GFX 50R: According to our rumors, the GFX 100 comes 2 years and 3 months after the GFX 50S. It's unclear if the Fuji GFX 50R will also get a 2 year refresh rate or a 4 year refresh rate like its rangefinder brothers the X-Pro and X-E
Our Owners Groups
Our Facebook Pages
Fujifilm X-T Line