SUPER FULL FRAME Fujifilm GFX 50R First Look and GF 50mmF3.5, 100-200mm F5.6, 45-100mm F4 Images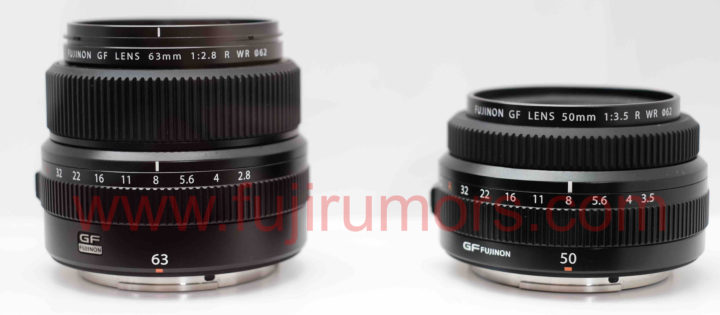 SUPER FULL FRAME
One thing I liked form the Fujifilm GFX 50R and GFX 100 live stream announcement, is that Fujifilm asked what full frame means.
"Full" indicates that some kind of limit is reached. So what is the Fujifilm GFX system? Well, then Fuji calls it a "super full frame" ;)
And just for fun I will tell you this: in German we often refer to "full frame" as "Kleinbild", which means "small frame", because it's smaller than… guess what?… you got it, medium format!
So what now, is full frame actually a small frame?
In order to end the confusion, I will tell you this: every system is "full frame". Fuji's APS-C system is conceived and designed for APS-C, and so is their MF system. M43 is build around the M43 sensor and so forth.
Whatever you hold in your hands right now, from an iPhone to Phase One, it's "full frame".
Fujifilm GF Lenses
Above you can see a size comparison image I made between the Fujinon GF 63mmF2.8 and the Fujinon GF50mmF3.5.
The GF50mmF3.5 is pretty much the perfect lens for the new rangerfinder-like Fujifilm GFX 50R.
Down below more images also from the Fujinon GF 100-200mm F5.6 and the GF 45-100mm F4.
Photographyblog has also shared a couple of Fujifilm GFX 50R + GF lenses hands on images here. There is a Fujifilm GFX 100 protected behind the glass, and photographyblog photographed it here.
Fujifilm GFX 50R
Imaging-resource goes hands on with the Fujifilm GFX 50R and shares their first impressions. From their conclusions:
"Using a medium format camera to capture images is like using a high-end microphone to capture a singer in the studio. The bump up in image quality from enthusiast-grade gear may not be huge, but once you've experienced it, there is a noticeable difference that just can't be achieved with lesser gear. Thus far, and even with this prototype, the GFX 50R is capable of producing astounding images, even in the hands of this non-professional photographer. I'm quite sure I'll be sneaking the full production sample out of our lab on weekends once one arrives."
GFX 50R Pre-Orders with Super Deal
The Fujifilm GFX 50R is finally available for pre-order at BHphoto, Adorama and AmazonUS.
BHphoto also offers additional savings on top of the current GF lens deals. You can save up to $2,800 if you purchase the Fujifilm GFX 50R along with the GF63mmF2.8 (save $1,000), GF32-64mmF4 (save $800) and GF45mmF2.8 (save $1,000).
Check out the BHphoto Fujifilm GFX 50R Bundle Super Deal
Also,  here is the list of GF lens deals that will expire on September 29.
GF 63mm (save $350): BHphoto, Adorama, AmazonUS
GF 32-64mm (save $450): BHphoto, Adorama, AmazonUS
GF 120mm (save $550): BHphoto, Adorama, AmazonUS
GF 110mm (save $550): BHphoto, AmazonUS, Adorama
GF 23mm (save $550): BHphoto, AmazonUS, Adorama
GF 45mm (save $350): BHphoto, Adorama, AmazonUS
And to those, who say the Fujifilm GFX 50R is big… just watch out with which huge "crop sensor" camera you shot until today ;)
via camerasize