SPECS COMPARISON: Fujifilm X-H2 vs Canon R5, Sony A1 and Nikon Z9 8K Cameras (To Be Updated)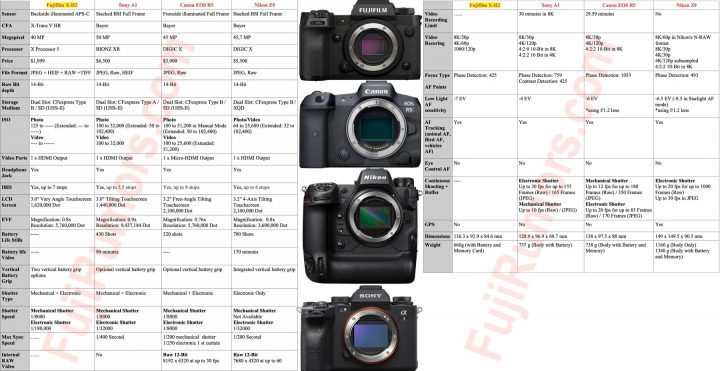 You're right. Every comparison is unfair.
Different sensor sizes, or different megapixel, or different features, or different sensor technology, or different price range, or different…. you got it, there is always something.
But since comparing the very same camera with the very same firmware would be awefully boring, I thought we enter the world of unfair comparisons and compare the upcoming 40 megapixel Fujifilm X-H2 with other 8K capable mirrorless cameras.
So we take a look at:
Of course the specs list of the Fujiiflm X-H2 is not complete. Nokishita will soon take care of it and help us to extend it and when that happens I will share an updated article.
However, even now we have quite some core specs available, which help us to get a very clear idea on how the X-H2 will perform.
Fujifilm X Summit

on September 8 at 2PM New York Time – LIVE on fujirumors.com
100% Fuji Colors Power
Rumors and Discussions