Photons to Photos: Fujifilm X-T5 Dynamic Range Sensor Measurement Data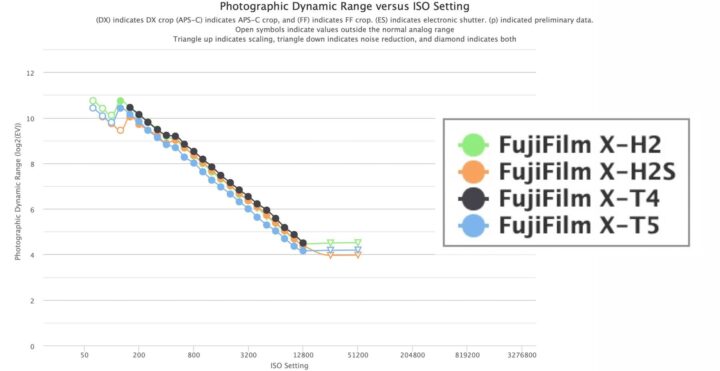 Photons to Photos has published their dynamic range sensor measurement data for the Fujifilm X-T5.
It's interesting to see that despite sharing the same sensor and processor, the X-T5 is not exactly on par in terms of dynamic range to the Fujifilm X-H2.
You can access the data and make your own comparisons at Photons to Photos here.
| | | | |
| --- | --- | --- | --- |
| Camera Model | Maximum PDR | Low Light ISO | Low Light EV |
| Fujifilm X-T5 | 10.43 | 2230 | 9.48 |
| Fujifilm X-T4 | 10.45 | 3298 | 10.04 |
| Fujifilm X-H2 | 10.75 | 2854 | 9.83 |
| Fujifilm X-H2s | 10.04 | 2884 | 9.85 |