These Specs Make the Fujifilm X-T5 Great for Landscape Photography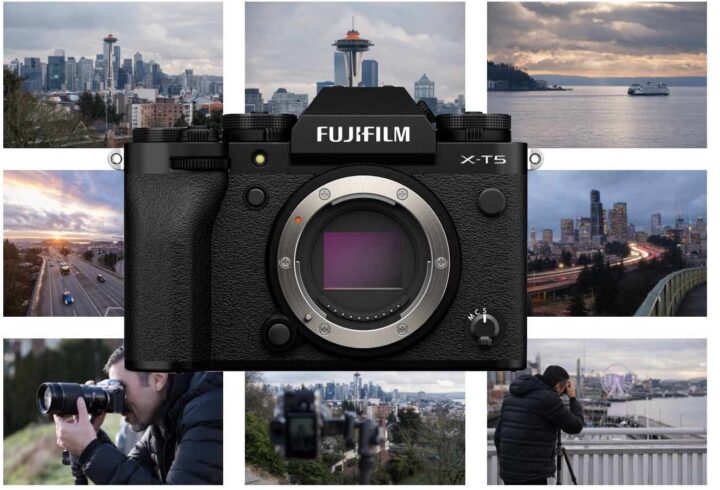 Tips for Landscape Photography, Using the Fujifilm X-T5
 by Reza Malayeri 
Full disclosure: This article was brought to you by Adorama. Adorama did not pay FujiRumors to publish this article. But, as usual on FR, this article contains affiliate links.
The Fujifilm X-T5 is the culmination of five generations of evolution in Fuji's X-Series lineup of mirrorless cameras. Released in November 2022 — nearly a decade after the release of the original X-T1 — the X-T5 features a revolutionary 40-megapixel X-Trans 5 HR sensor, X-Processor 5 AI image processing, and a more compact version of the beloved classic X-Series camera body. This makes it an optimal choice for landscape photography.
Weighing in at just 557 grams, the Fujifilm X-T5 is a lightweight powerhouse. The combination of the smaller size, weight, and high resolution 40-megapixel sensor is a joy to use and travel with. I've been enjoying the convenience of shooting landscape photography with such a compact setup. I can pack the X-T5 and several Fujifilm lenses into a small backpack to create stunning high-resolution images.
Fujifilm X-T5 for Landscape Photography
Higher Resolution and Increased Dynamic Range
Fujifilm has included several improvements to the X-T5 which make it an amazing camera for landscape photography. The all-new 5th generation X-Trans 5 HR CMOS sensor features an enhanced image processing algorithm that boosts resolution, without compromising signal to noise ratio. In addition to its enhanced image processing algorithm, the X-T5 also features an improved pixel structure, which allows light to be captured more efficiently. This also enables a lower base ISO value of 125. The combination of these two technologies offers increased dynamic range and higher resolution, both of which are highly desired features for landscape photographers. 
X-Trans Pixel Structure without an Optical Low-Pass Filter
The design of the pixel structure on the Fujifilm X-Trans sensors is ideal for landscape photography. This is because the red, blue, and green pixels are placed on every single vertical and horizontal line of the sensor. This allows the X-T5 to interpolate colors more accurately. 
The green pixel in particular is placed in all of the diagonal lines of the sensor, which is in-contrast to how a traditional Bayer Filter array works on non-X-Trans sensors. The Bayer Filter array found in most conventional cameras can only place two of the three RGB pixels per each line of the sensor, which doesn't allow the green pixel to exist diagonally. This causes a form of image quality degradation called moirè and requires the use of an optical low-pass filter. This can decrease the sharpness and color accuracy of your landscape photos.
Improved IBIS
The X-T5 introduces an improved in-body image stabilization system with seven stops of camera shake reduction. This is an improvement from the 6.5 stops that was available on the X-T4. It is an essential feature for landscape photographers who want to shoot in low-light, or without a tripod. 
There are many situations where carrying a tripod isn't practical, or not even allowed. Having an excellent IBIS system comes in handy during times when you must venture out without your tripod. You can get sharp images without worrying about micro-jitters from your hands. 
Shooting landscape images in low light is also a great use of a good IBIS system like the one in the X-T5. With seven stops of camera shake reduction, I can capture photos with slower shutter speeds. This allows me to gather more light and use lower ISO values to reduce noise. 
160 Megapixel Pixel-Shift Mode
The IBIS system and high-resolution sensor of the X-T5 combine to create stunning ultra high resolution Pixel-Shift images. For the times when you need to capture significantly higher-resolution images, the X-T5's IBIS shifts its imaging sensor by half a pixel between 20 successive frames. This ensures that your final image has the same information in every red, green, and blue pixel, and creates a 160-megapixel final image that has no false colors visible.
Making the most of this feature requires that you shoot scenes with little to no movement, as the IBIS is shifting between each frame that it captures. Any movement in the scene will result in motion artifacts in the final image. You'll also need to use Fuji's Pixel Shift combiner software to stitch your final image together in post.
Weather-Resistant Body with Analog Top Dials
Shooting landscape photography means I'm often in situations where the weather can quickly change. I can't afford to head out with a camera or lens that can't be subjected to the elements. The X-T5 allows me to shoot in any weather. It has 56 weather-sealed points throughout its rugged body. It's dust and moisture resistant and can be used in temperatures as low as 14 degrees Fahrenheit.
Another convenient feature of the X-T5 for landscape photography is its analog top dials. The dials not only give classic film camera vibe, but it also makes it fast and easy to adjust settings. I can quickly change the ISO, shutter speed and aperture, without needing to dig through menus.
Settings on the Fujifilm X-T5
Shooting landscape photography with the X-T5 is a joy. It has an amazing 40-megapixel high-resolution sensor that is optimized for maximum sharpness and color accuracy. There's no optical low-pass filter. The improved pixel structure of the sensor captures light more efficiently. All of this combines to create the ideal conditions to capture amazing landscape photos. 
My goal when shooting landscape photography is to always try and keep my ISO settings as low as possible. This allows me to maximize the dynamic range of the sensor, while simultaneously reducing the signal to noise ratio to its lowest value. The X-T5 has a native ISO value of 125, which is what I always try to keep my ISO.
I'm able to stay at base ISO by shooting on a tripod most of the time. Using a tripod allows me to lower my shutter speed way more than I could while holding the camera in my hands. It also captures more light in the process. 
Lenses for the Fujifilm X-T5
With the increased resolution of the Fujifilm X-T5 comes a higher optical resolving power requirement. 40 megapixels is a lot of resolution, and not all lenses are capable of resolving that many pixels completely. That's not to say that you can't use older lenses with the X-T5, but it does mean that the older lenses won't capture landscape images with the maximum fidelity possible.
Here is a list of XF lenses that have the optical resolving power to keep up with the 40 megapixel sensor of the X-T5:
Who Should Buy the Fujifilm X-T5 Camera?
The Fujifilm X-T5 is an amazing camera that is built with a photography-first focus. Unlike the X-T4 — which was designed to appeal to hybrid-shooters — the X-T5 has gone back to the roots of the X-Series lineup. It has a compelling set of features that are tailored to photo enthusiasts first.
Fujifilm has made design choices that emphasize the target user for the X-T5. This includes the change from the X-T4's flip-forward screen, back to the three-way tilting screen from the X-T3. The tilt-screen is much more suited for photography, as it puts the composition of your images in line with your lens' field-of-view — ideal for vertical shooting. 
Having a 40-megapixel sensor is another design choice by Fujifilm that makes the X-T5 an ideal choice for photo enthusiasts. I personally love using the extra resolution headroom for re-framing of my compositions in post. But that's not the only reason why it's useful for landscape photographers. Having a high-resolution sensor like the one in the X-T5 means you don't need to worry about having enough reach with your lens, or being slightly off with your composition. You can comfortably "zoom" your shots by cropping in post and still have plenty of resolution remaining in your final image.
With all that said, photography is not the only thing that the X-T5 can be used for. It has an impressive set of features for video as well. It offers up to 6.2K/30P 4:2:2 10-bit internal video recordings and impressive subject-detection AI-powered autofocus. Hybrid shooters can still enjoy the impressive video specs on the X-T5, as it also features Fuji's all-new F-Log 2 picture profile. It can even output RAW video via HDMI.
Conclusion
The X-T5 can capture nearly everything you may want to shoot with it — from landscape photography, to portraits, wildlife, and even cinematography. The AI-based subject-detection autofocus can track everything from humans, to birds, animals, airplanes, and trains.
Creators will enjoy beautifully detailed images, true-to-life colors, and that classic Fujifilm user experience. The X-T5 inspires creativity through its usability, performance, size, features, and filmic picture profiles. Punching way above its weight class, it's a compelling choice for current Fujifilm shooters who want to upgrade, and for photographers who've always wanted to try a Fujifilm camera. 
All photos courtesy of Reza Malayeri