Panasonic Unveils 35MP Organic Super35 CMOS Sensor with Global Shutter and Great Dynamic Range
The organic sensor has reached a mythical status.
In fact, 8 year after the joint Panasonic and Fujifilm announcement, where the organic sensor was first unveiled to the masses with great optimism and claims of glorious performances and dynamic range, we haven't seen anything coming to the market, expect for a camcorder prototype shown by Panasonic back in 2019.
Probably like many of you, I just stopped hoping that such a sensor would ever see the light of the day.
And yet, today we have to add another chapter to the organic sensor novel.
In fact, Panasonic has just announced the first 4k/8K Super35 global shutter organic CMOS sensor during the "4th 4K / 8K Video Technology Exhibition"
Here are Panasonic's claims (google translated):
replaces the silicon photodiode that has been used as the light receiving part of the conventional CMOS sensor with an organic thin film that has a larger light absorption coefficient
wide dynamic range and global shutter
In a general back-illuminated CMOS sensor, if a high resolution and a wide dynamic range are realized, a global shutter cannot be installed, and if a global shutter is installed, the resolution and the dynamic range are reduced, which is a trade-off
The organic CMOS sensor has a dynamic range four times that of a general CMOS sensor
the global shutter also adjusts the voltage applied to the organic thin film to control the photoelectric conversion efficiency
technological development for practical use is making great progress
color reproducibility is high
As a next-generation technology for organic CMOS sensors, there is an ultra-WDR technology in which two sensitivity detection cells, a high-sensitivity cell and a high-saturation cell, are provided in one pixel.
With this, the dynamic range can be 100 times that of an organic CMOS sensor and 400 times that of a general CMOS sensor.
Well, we knew about all the dynamic range claims and the global shutter already. Today we got a bit more insights on how it works and especially one sentence revived my hopes after all these years:
technological development for practical use is making great progress
So let's hope that we will soon see the first cameras with such a sensor and that they were able to sort out the main problems with this sensor: heat generation and battery drain.
Will this be the sensor of the Fujifilm X-H2?
I don't know, but I don't think so.
Maybe it will initially find its way into larger bodies of camcorders, which can handle heat generation better. At a later stage maybe also mirrorless cameras will feature this sensor.
Best Deal on Capture One 22
Save 20% plus additional 10% (with code FUJIRUMORS) by pre-upgrading to Capture One 22 now. No better deal will come to upgrade, not even at Black Friday. This is the best price.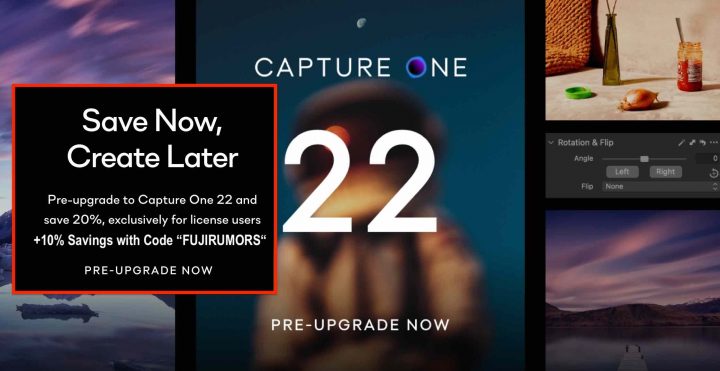 The Organic Sensor Novel – A Summary:
via digicame-info via monoist