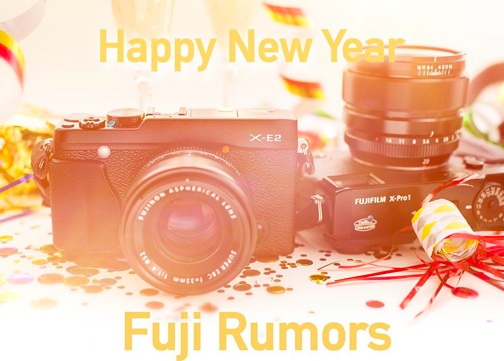 You Guys are Unbelievable
I have to tell you… you guys are driving me nuts… in a good way :)…
… because here is what you did on FujiRumors this year 2017
45,261 comments to FR-articles (124 comments a day – average 47.5 comments on each article)
145,915 votes in our polls
Also our social media skyrocketed beyond anything I could have ever hoped
These numbers explain very good, why, as proven multiple times (such as here and here), Fujifilm reads us with greatest care on a daily basis. You are their best online source for all things Fuji feedback… and if it's correct what a source told me here, their absolute and by very far favorite one ;) .
I Tried to Honour Your Participation
I have tried to honour your participation as good as I can, delivering you in 2017:
952 blog posts (in my not so impeccable English)
129 rumors
94% correct rumors (full overview will follow in a separate article)
I have also put heart and soul in my personal messages with you:
5,000+ emails written via fujirumor@gmail.com
easily another 1,000+ private messages on Facebook and Twitter
at least about 17 to 20 emails/private messages every single day, weekend and holidays included
I'm Motivated Like Never Before
Being part of this amazing community is extremely motivating for me, and you can be sure that I'll put all my passion/fun/excitement (and a lot of time) into this blog also in 2018, in order to make your time here on FujiRumors the most informative & exciting as possible.
Top Blogger Moment 2017
Having raised, thanks to the FujiRumors community, additional $1,500 for free education for Cambodian kids (total $5,000 in two years).
And behind the scenes, I have also donated for free education the money I made with various cooperation over the last 5 years.
Could I have afforded a Fujifilm GFX with that money?
Yes! But after having cleaned and repaired the dirtiest toilets in Nicaragua, played with the kids there and distributed food to kids living in the largest waste disposal site of Central America, I wanted to continue to find a way to support a little bit some projects around the world, also via FujiRumors.
With that said… the Fujifilm GFX is on my radar, and I'm working restelessy to fund it :)
Flop Blogger Moment 2017
Actually everything was fantastic this year…
But I know which one will be the flop moment of 2018., and I have given a hint here in the X-H1 announcement day rumor. But that's how it is… I'm 100% concentrated and looking forward to make 2018 a great year for every Fuji X and GFX shooter out there.
Most Read on FujiRumors
Most Bought on FujiRumors
Happy New Year 2018!!!
2018 is here…
Now you guys promise me to keep up having fun with your photography, and I promise you to put my best into FR also in 2018… so that when you decide to tune in, you will always find fresh content and exciting rumors on fujirumors.com :)
A wonderful, healthy and fun 2018 to everybody out there… and may your SD-cards be full of great moments captured with your X or GFX camera in 2018 :)

Fuji X Forum, Facebook, RSS-feed, Twitter and Instagram