RUMOR: Fujifilm to Release a New Mid-Range Camera that is NOT an X-T30 or X-E3 Successor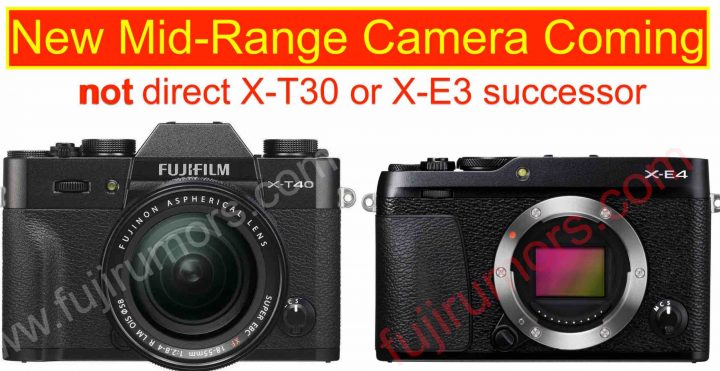 Tell me, what would be the fun, if Fujifilm would just release what we customers expect? No fun at all, right?
So Fujifilm decided to surprise us and give us something unexpected ;).
But I invite you to read carefully to avoid misunderstandings!
A few months ago here, we told you that Fujifilm will release two mid-range cameras within the end of the Japanese fiscal year (March 2021). Of course if COVID-19 does not force Fujifilm to change plans again.
Now here is the thing.
When FujiRumors shared that rumor, 99% of you guys said "easy, those must be the long awaited X-T40 and the revived X-E4."
Well, not really.
I can tell you today, that one of those two cameras will be a new mid-range camera line, hence not a direct successor to the Fujifilm X-T30 or Fujifilm X-E3. It's something different.
And to be clear: there will be two mid-range cameras. This means, besides this new camera we rumor today, there will be another one, which could be a refresh of something we already know, or Fujifilm could surprise us also with the second one.
Hence, in terms of mid-range cameras, here is what we can expect in the next few months:
new mid-range camera NOT direct successor to Fujifilm X-T30 or X-E3
another mid-range cameras (unknown if a refresh of current camera lines or something new)
And now have fun speculating on what it could be in the comments (although I am pretty sure that nobody of you will make the right guess ;) )
Now that the I am on holiday from my teaching job and I am back from my 2 weeks trip in South Italy, I am working on this and many (!!!) more rumors. The right time to drop the rumors will come, and when it happens, make sure to be instantly notified by following FR on Facebook, RSS-feed and Twitter.
Take care guys, and have a fantastic day ahead!

is on Patreon, Facebook, Instagram, RSS-feed, Youtube, Flipboard and Twitter
Join Our Owners Groups
Join Our Facebook Pages