New Fujinon Premista Lens and More Coming September 2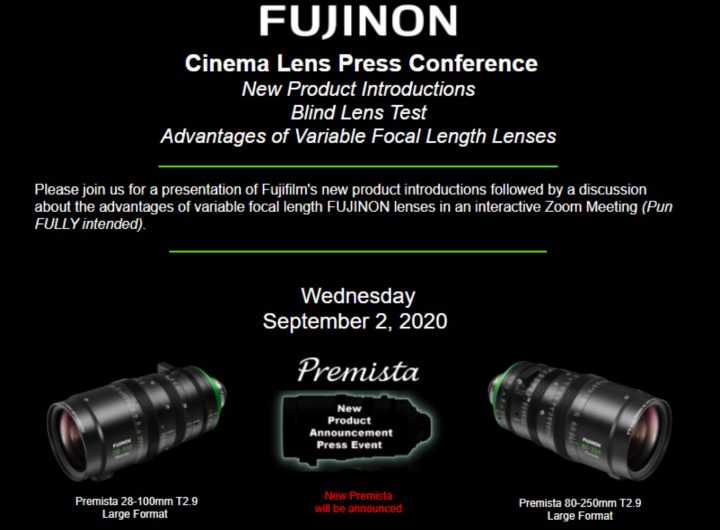 A third Fujinon Premista lens will be annonuced on September 2, in addition to the 2 we already have:
More about Premista lenses:
fujirumors.com – Craftsmanship of Fujinon Premista Lenses Cine Lenses
fujirumors.com – FUJINON Premista PL Mount Cine Lenses Cover Fujifilm GFX sensor
fujirumors.com – Fujifilm Introduces the Zoom Cinema Lenses "Premista" Series
The press conference will feature a number of presenters and guests.
Presenters Include:
Marc Cattrall – Fujifilm United Kingdom
Stosh Durbacz – Fujifilm Canada
Thomas Fletcher – Fujifilm USA
Hideyuki Kasai – Fujifilm Germany & Japan
Special Guests
Marko Massinger – DoP, Germany
Matthew Duclos – Duclos Lenses, USA
Other Products that will be Introduced include:
An extremely long, fast, PL Mount FUJINON zoom lens developed in response to the unique needs of the Multi-Cam Cinema Style Production market.
A cost-effective solution to Blackmagic's new URSA Mini 12K camera.
A variety of new Third Party Products that enhance FUJINON lenses for film crews.
Zoom Session RSVP
Two Zoom sessions are available and RSVP is required to receive the links.
FIRST SESSION – RSVP Link
10:00am – London – BST
11:00am – Central Europe – CEST
Noon – Moscow – MSK
2:30pm – India – IST
5:00pm – Beijing – UTC
6:00pm -Tokyo – UTC
7:00pm – Sydney – AEST
SECOND SESSION – RSVP Link
10:00am Los Angeles – PDT
Noon – Mexico City – CDT
1:00pm – New York – EDT
2:00pm – São Paulo – BRT
6:00pm – London – BST
7:00pm – Johannesburg – CEST
8:30pm – India – IST
via newshooter