Astrophotography with Fujifilm: Get Stellar Results with Fujifilm APS-C and Medium Format Cameras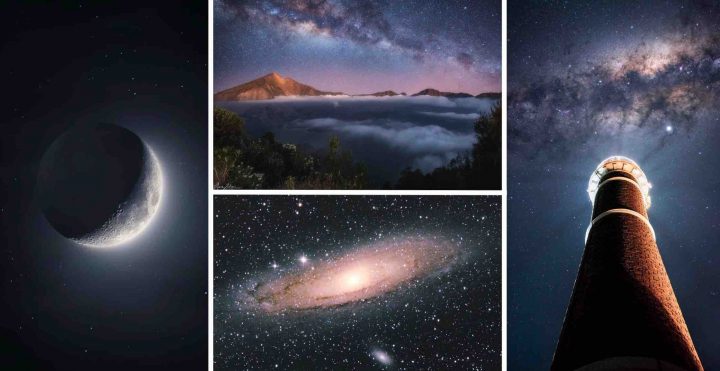 I have received an email from a fellow member of our Fujifilm Astrophography facebook group, which said:
I was thinking you could perhaps share some of the pics taken on the FB group "Astrophotography with Fujifilm" that you manage. Lots of awesome pictures there! We often hear you need an expensive full frame camera or big telescope, but that's just wrong, as this group suggests.

That would be great to attract more Fuji shooters to this group, it's a very nice community where we help each other and learn from our experiences.

Astro can be daunting for the newbie, but it shouldn't. Also, there aren't a lot of Fuji shooters in the astro community, so I'm sure it could spread the virus — the good one!
Oh well, here it is.
Have fun and may this post inspire you to try your luck with the stars, too :).
Images Roundup
Ghislain Favé
shared here
Waxing crescent moon. Shot 2 days ago with the XT3, Fuji 50-140 and TC2x
_ _ _
Aws Zuhair
shared here
Mount Rinjani – Lombok – Indonesia
The second highest active volcano in Indonesia
FUJIFILM X-T3
Lens: Fujinon 10-24mm F4
SS 30 seconds (10 stacked images) ISO 3200   Aperture F4   Focal length 10mm
https://www.instagram.com/aws__zuhair/?hl=en
_ _ _
アバンド ジョニ
shared here
Hi All! Your CC is greatly appreciated on how/what can I improve from this photo. Thank you all!
X-T3/ 35mm1.4        iso400, 1/15ss, 1.4
25 photos merged using star stax
_ _ _
Ghislain Favé
shared here
The Milky Way over the lavender fields, such a magical moment!
EXIF:
Sky is a pano of 7 tracked shots. Fuji XT3, rokinon 12mm f2, iso 1600, f2, 60s
Foreground was shot at blue hour, iso 160, f9, 1/4s
_ _ _
Kemal Becirevic
shared here
Lukomir, Bosnia – Milky Way
Fuji xT2, Samyang 12mm f2, blend/composite
_ _ _
Todd Jackson
shared here
Tonight's Space X launch as seen from Vero Beach!
_ _ _
An Dres Jones
shared here
Hello Fuji friends, here is a photo that has pushed me to grow exponentially in the last two weeks. I hope FB doesn't destroy the image quality, as it took me probably 20+ hours to learn and post process this because of its size and complexity. This photo is a panorama of 56 tracked sky shots and 28 foreground shots all stitched together to form a massive 433 megapixel image. 84 total shots resulting in 40000 x 17000 pixels. Every sky shot was taken at 30sec f1.8 and 1600iso. Foreground shots varied at either 400iso or 200iso and 3sec or 10sec all at f5.6. The variation there was depending on how fast the sun was coming up and blue hour was fading.
For all the gear peeps:
It was taken with an modified XT100(modified to pick up higher amounts of H-Alpha light) along with an adapted Sigma art 40mm. My setup for this shot was pretty ridiculous as my xt100 weighs 450g/1lb and the sigma weighs 1200/2.7lbs. To accommodate this I had a friend 3d print a tripod mount designed to hold the lens.
Never again will I be making a full milky way pano with this lens😂
_ _ _
Patrick Bremser
shared here
First time shooting the stars with the new-to-me XT3 and the Fuji 16mm 1.4 and rokinon 12. I sold my Nikon kit with D810 and D750 and am sooooo happy with the quality of shots that I got last night just trying things out. Can't wait for another clear night!!!
_ _ _
Peter Lepszy
shared here
Hallo 🙋‍♂️ X-T20 Focal 1500
_ _ _
Ghislain Favé
shared here
First try at Andromeda galaxy!
XT-3 + 50/140 f2.8
A lot to learn to process correctly those astroshots!
_ _ _
Andy McGregor
shared here
I took the first shot of M51 last year with my X-T3 on a Star Adventurer. At the time, I was absolutely delighted just to get the galaxy in the frame after two nights of trying to find it. The second image was taken a couple of weeks ago. Same camera, bigger scope, better mount and some practice at processing.   The Whirlpool Galaxy M51.
Fuji X-T3, William Optics Zenithstar 103, x0.8 reducer, HEQ5 mount, 55x240s and 10x480s at ISO 1600.
_ _ _
Dom Ruiz Agorilla
shared here
Milky Way Galaxy
Fujifilm X-Pro2 + Fujinon 16mm f/1.4
_ _ _
René Claudi Petersen
shared here
I have a passion for the Milky Way! My journey started 2 years ago being inspired by the many talented people on FB and IG. It's been a long journey with many frustrating nights where things wouldn't go my way😩 Countless hours in front of the computer just to find out it's NOT that easy!  I've been waiting 2 years for one specific shot – a shot I've always wanted – and 2 days ago I had my chance🙏 Weather conditions were perfect! Clear skies, low humidity, no wind and low temperatures👍 Off I went…..and so glad I did😍  Sorry for the long story but felt it was a big part of this specific picture😊GFX50R/ 32-64 mm/ ISO2500/ 3×120 sec tracked
FG: ISO2000/ 25 sec
_ _ _
Mauricio Salazar
shared here
Galactic Lighthouse ✨ Selected today by NASA's APOD 🙂
https://apod.nasa.gov/apod/ap191119.html
instagram.com/astropolo_
I had this image on my mind for quite some time and I went to Jose Ignacio beach in Uruguay to make it possible. It was a cold night with clouds threatening to ruin the shot so I waited until it cleared. I have a photo of the same lighthouse with the milky way from a year ago. It's amazing to look back and realize how much you can learn when you are so passionate about something.
STACKED
Fujifilm x-h1
Fujifilm 8-16mm 2.8
10x15sec 16mm @2.8 1600
_ _ _
Jia Wang
shared here
Startrails  Fujifilm X-T3
XF 18mm F2 R
iso1000 20s x 433pics
Instagram:haunted_wang
https://www.instagram.com/haunted_wang/
https://500px.com/haunted
_ _ _
Andre Abtmeyer shared a post.
shared here
CROSSING
Lake Versetal, Germany
Fuji X-H1, Laowa 2.8/9mm, 2x Sunwayfoto FL-54 for illumination
7 shots stacked together for Milkyway, 20sec each, 1 shot for foreground, 120sec.
_ _ _
Kemal Becirevic
shared here
Crveni Kuk, Bosnia – Milky Way
Fuji xT2 @16mm f1.4 blend/composite
_ _ _
Ajith Everester
shared here
A 3 shot vertorama with XH1 and 50mm
_ _ _
Scott Dommin
shared here
Comet C/2020 F3 NEOWISE from Vermilion, Ohio yesterday morning. Fujifilm X-T4 with 100-400mm lens at 400mm and star tracker…
_ _ _
Ryan Braxton
shared here
M42 (Orion Nebula) & Sh2-279 (Running Man Nebula)
#FujifilmXM1    Samyang 135mm f/2  360x 2″ exposures  ISO 2000  f/2
Mounted on a basic tripod, no tracker used
Processed with the help of ASTROBACKYARD's Tutorial on YouTube
_ _ _