Opticallimits Viltrox 23mm f/1.4 AF Review: "Not as Good as the Fujinon 23mmF1.4, but Better Value for Money"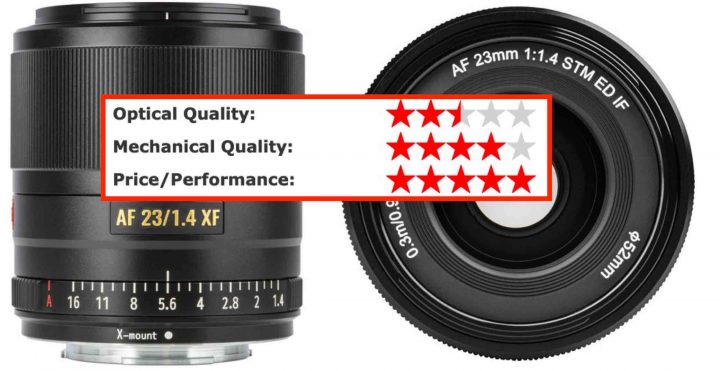 Opticallimits (former photozone) published its Viltrox 23mm f/1.4 Fujifilm X mount lens review.
The Fujinon XF23mm f/1.4 (btw., my most used lens during my home-teaching vlogging career) won't be dethroned in terms of image quality, but given that the Viltrox costs a fraction of the price of the Fujinon, it is better value for money, according to opticallimits.
From their conclusions:
The Viltrox AF 23mm f/1.4 XF may not be as good as the competing Fujinon lenses but it easily beats both of them in terms of value. At $329/349EUR, it is almost shockingly priced for such a fast lens. Therefore you may forgive that it has a couple of weak spots.

At f/1.4, you have to live with reduced contrast and weak corners but the center quality is pretty good. The question may be whether you really require more than a sharp center here because, usually, you will not place your main subject in the image corners anyway. That being said – it is a limiting factor for astro-photograohy, for instance. If you want very sharp results across the image field, the Viltrox lens can provide this when stopping down to f/4.

Lateral CAs could be a little better at f/1.4 and f/2 but you can, once again, tame them by stopping down a bit (or use CA correct in your favorite RAW converter).

Image distortions are very low and that's without any digital trickery.

The vignetting characteristic is typical for such a high-speed lens thus there's some visible light falloff at large-aperture settings.

The bokeh has its ups and downs depending on the scene. Out-of-focus highlights are nicely rendered. The blur near the image center is very smooth but harsh contrasts in the image corners can be challenging for the lens.

The mechanical quality of the Viltrox AF 23mm f/1.4 XF is surprisingly high. It's tightly assembled and most of the lens is made of metal including the lens hood.

[…] The focusing speed is very high and AF operations are noiseless – just as it should be. For your peace of mind, it's also good to know that Viltrox keeps on updating the firmware of the lens (currently at v1.0.6).

So all-in-all, the Viltrox lens may not be perfect but if you can live with its limitations, you can get a lot of bang for your bucks here.
Just a reminder: do not use this lens on the Fujifilm X-Pro3 (on all other Fuji cameras it is totally fine, though).
You can read the full review here at opticallimits.
Follow FujiRumors on Patreon, Facebook, Instagram, RSS-feed, Youtube, Flipboard and Twitter
Our Owners Groups
Our Facebook Pages